In my last story covering the new XLR Element 4.0 Magnesium chassis, we saw just how light-weight this chassis can run with both centerfire and rimfire rifles. This time, we'll weigh things down, swap buttstocks, and put a Bergara 6.5 PRC rifle in this chassis.
Element 4.0 Magnesium
From the XLR Product Page:
The Element Magnesium is an ultra-lightweight modular hunting rifle chassis designed for the backcountry hunter. The standalone chassis, without buttstock or grip, weighs approx. 16 oz. When configured with a carbon fiber buttstock and carbon fiber grip the system weight is just  approx. 28 oz. This ultralight configuration is the first rifle chassis system in the world to weigh under 2 lbs!
Machined from AZ61A Magnesium, the Element Mg retains all the strength and durability for which our rifle chassis systems are known, but at a fraction of the weight! This is the ultimate lightweight, modular chassis platform for the backcountry outdoorsman!
The Element is available with the following inlettings:
Remington 700 Short Action
Remington 700 Long Action with a 3.850″ magwell
Remington 700 Clones Short & Long Action
Remington 783 Short Action
Howa 1500 Short Action
Savage Short Top or Bottom Bolt Release
Savage Long Top or Bottom Bolt Release
Tikka T3 Short Action
Tikka T3 Long Action with a 3.56" magwell
Tikka T1 Rimfire (factory magazine only)
CZ 457 Rimfire (factory magazine only)
Lone Peak Arms Medium Length Actions
Defiance XM Length Actions
New for Element 4.0 Magnesium:
Integral ARCA rail on forend means you don't have to purchase a separate ARCA rail, and you still have the convenience of M-LOK slots.
Integral bubble level behind action tang area means you don't have to run a level on your scope!
And here's the part 1 video from this series (full story HERE)
The chassis-only combination shown in this first story weighs just 2.235 lb!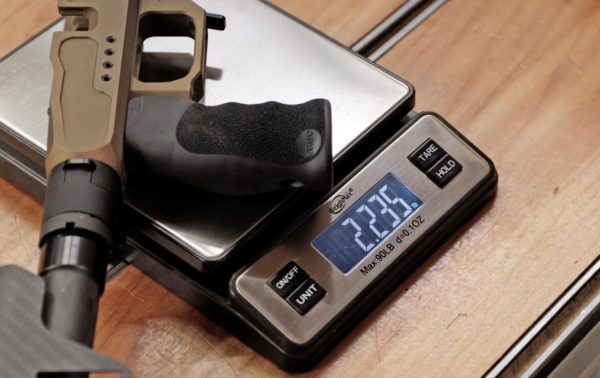 Weighing Down the 4.0 MG: Buttstock
The TR-2 is a premium aluminum adjustable buttstock. From the XLR product page:
The Tactical Revision 2 (TR-2) Buttstock offers a wide range of adjustments allowing shooters to find the optimal fit for their rifle. Available on all XLR rifle chassis, this buttstock combines years of design expertise into one versatile and adaptable piece of tactical equipment. The TR-2 Buttstock has a universal design and can be used on nearly all tactical, hunting, and competitive shooting rifle builds. A castle nut and buffer tube are included in each order. This buttstock includes a dual recoil plate system for ultimate pad height and cant adjustability. The stock can be run with a single recoil plate for small weight savings. It features Quick Detach sling mounts on the left and right side, an ambidextrous cheek rest, monopod & bag rider provisions, all in an enclosed design. The TR-2 Buttstock has a 12" to 15" Length of Pull (LOP) adjustment range with adjustable cheek rest height (1.2″), recoil pad height (1.575″), and recoil pad cant (+/- 10°). WEIGHT: 20.5 – 22.5 oz. Weight includes buffer tube and castle nut. LEAD TIME: Cerakote coatings take an additional 1-2 weeks of lead time.
The first part of weighing down the Element 4.0 MG chassis is to swap out the carbon buttstock, to add weights to a TR-2 buttstock, and to then install that buttstock on the chassis.
Installing the buffer tube weight kit (3 of four weights used):
Installing the TR-2 buttstock clamp-on weight kit:
Finally, I installed the XLR tactical bag rider. Here's the completed buttstock:
In the above image you can see the LOP (Lenght Of Pull) adjustments:
Buffer tube clamp to lower assembly holes: the clamp can be moved forward and aft by selecting which screw holes are used.
Sliding buffer tube clamp on buffer tube: at bottom of cheek riser slots you can see the three allen screws that are used to clamp the buttstock main assembly to the buffer tube. This allows both fore-aft movement, plus cant/rotation.
Weighing Down the 4.0 MG: Forend
Next, my attention turned to the "front half" or the rifle! I started with the XLR Element Forend Weight Kit:
These weights are installed inside the forend:
And then, the M-LOK forend external weights were installed:
These weights are easy to install thanks to the fact that they use M-LOK!
Installing the Bergara 6.5 PRC Barreled Action
The Bergara B14 Wilderness 6.5 PRC barreled action fit in the XLR Element 4.0 MG chassis just as well as the Bergara B14R- perfectly! Above you can see the finished rifle. One of my favorites!
Weight Breakdown
Below is a breakdown of the individual components, and the rifle configurations shown in the video and in this article:
Being able to "add or remove" 4.57lb from your rifle to adapt it to different shooting scenarios is a GREAT capability. This is especially true for a rifle chambered in 6.5 PRC where you'll want both a light-weight option for hiking, and a "heavy-weight" option for prone or bench shooting. Love it.
Shooting the 6.5 PRC
Once I set the rifle in the benchrest, I noticed how well the rear bag rider worked with the rear bag I have: SOLID. Great tracking with little elevation shift. I shot this configuration both with a suppressor, and with the new EC Tuner Brake. Both felt good with this "weighed down" rifle configuration. And I'll have some follow-up content in an upcoming 6.5 PRC load development story, so stay tuned!
Get the Gear
Don't miss out on Ultimate Reloader updates, make sure you're subscribed!
Thanks,
Gavin