In my last post, I outlined some basic principles for reloading safety. One of the basic ways that you can ensure your safety while reloading is by using a quality powder check system- especially when loading with a progressive reloading press.
So next, I thought it would be a good idea to look at some of the popular powder check systems available today so that you can understand the features implemented by each "system".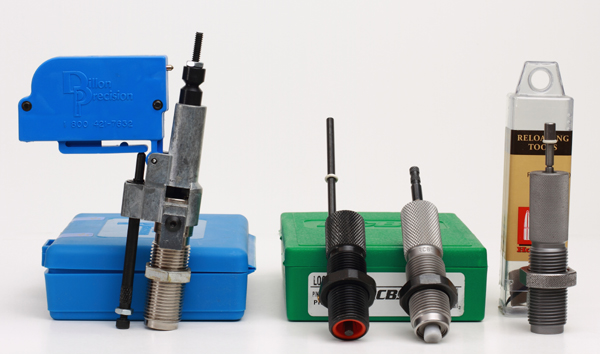 So let's perform a quick overview of each of these systems. I'll talk about these systems in more detail in subsequent posts.
Dillon XL-650 Powder Check System
This system is perhaps the most complicated system from a construction stand-point, and can only be used with the Dillon XL-650 and Super 1050 reloading presses. This powder system will sound an audible alarm if there is an undercharge or overcharge. The upper unit is "quick release" and utilizes the same lower die as the powder measure. You can setup the powder check on multiple toolheads.
RCBS Powder Checker Die
This die utilizes a center rod actuated by the powder in the case, and a separate rod off to the side which holds a white rubber O-Ring at a user adjustable height so that the level can be compared at the top of the ram stroke when reloading. This die is simple to setup and use, but requires the user to visually inspect the level for each round loaded.
RCBS Lock-Out Die
The Lock-Out die by RCBS is a unique contraption that intrigues the imagination. It is case activated, and will literally lock up the reloading press if there is an undercharge or overcharge. This means it's perhaps the safest of any of the systems. On some presses, it does require the die to be removed if there is a variation in powder level in order to resume loading.
Hornady Powder Cop Die
The Hornady Powder cop die is very similar to the RCBS Powder Checker die system. The main difference is the fact that the RCBS system uses two rods, where the Hornady powder cop die uses only one, and the reference O-Ring is adjusted on the single rod. It essentially shares the same advantages and disadvantages as the RCBS Powder Checker die system.
All of these systems work, but some work better for certain applications than others. I'll post some additional information about these systems so that you can better understand how they work and which system is better for you.
Did I miss anything here? Do you use a powder checking system I didn't cover?
Thanks,
Gavin