XLR, a leader in the rifle chassis space has just launched the latest version of their ultra-light hunting-oriented chassis: the Element 4.0 Magnesium. In this story, I'll get hands-on with this new chassis and try it out both with rimfire and centerfire rifles. Let's go!
Element 4.0 Magnesium
From the XLR Product Page:
The Element Magnesium is an ultra-lightweight modular hunting rifle chassis designed for the backcountry hunter. The standalone chassis, without buttstock or grip, weighs approx. 16 oz. When configured with a carbon fiber buttstock and carbon fiber grip the system weight is just  approx. 28 oz. This ultralight configuration is the first rifle chassis system in the world to weigh under 2 lbs!
Machined from AZ61A Magnesium, the Element Mg retains all the strength and durability for which our rifle chassis systems are known, but at a fraction of the weight! This is the ultimate lightweight, modular chassis platform for the backcountry outdoorsman!
The Element is available with the following inlettings:
Remington 700 Short Action
Remington 700 Long Action with a 3.850″ magwell
Remington 700 Clones Short & Long Action
Remington 783 Short Action
Howa 1500 Short Action
Savage Short Top or Bottom Bolt Release
Savage Long Top or Bottom Bolt Release
Tikka T3 Short Action
Tikka T3 Long Action with a 3.56" magwell
Tikka T1 Rimfire (factory magazine only)
CZ 457 Rimfire (factory magazine only)
Lone Peak Arms Medium Length Actions
Defiance XM Length Actions
New for Element 4.0 Magnesium:
Integral ARCA rail on forend means you don't have to purchase a separate ARCA rail, and you still have the convenience of M-LOK slots.
Integral bubble level behind action tang area means you don't have to run a level on your scope!
A quick look at the new integral bubble level:
Gavin's Element 4.0 Magnesium Setup
The Element 4.0 Magnesium package I put together consists of the following:
This combination weighs just 2.235 lb!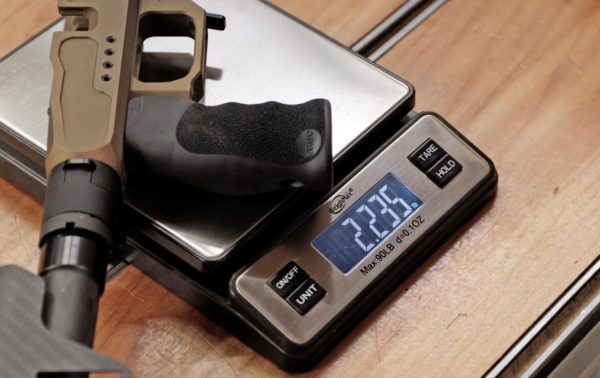 TEST 1: 6 Dasher Full-Custom
The first test was with my full-custom 6 Dasher.
Here's the rifle details: (full story HERE)
This rifle shot quite well with the Element 4.0 Magnesium! Both on the bench, and in the field. This chassis reduces the weight for this rifle compared to the original stock/rail used, and shot quite well (recoil felt very manageable). It's like a "switch" turning this PRS style rifle into a field-shooter.
TEST 2: Bergara B-14R Rimfire Trainer
The Bergara B-14R is an exceptional rimfire trainer (see the full article I published on that rifle HERE). As it turned out, putting the B-14R into the Element 4.0 Magnesium chassis was like putting two things together that were "meant to be"! This combination is both light weight, and very well balanced with a suppressor. I did some steel shooting, and some quick hunting, and I'll have to say: this combination is legit.
Conclusion
The XLR Element 4.0 Magnesium chassis performed very well with the rifles I tested. Both rifles tested fit perfectly, and worked with the included action screws.
Here are some things I really like about this package:
Light weight: this is by far the lightest chassis system I have, and I backpack rifles up steep hills frequently. This is a big deal!
Folding buttstock: another great feature for backpacking, or storing in the SxS or truck.
Integral ARCA rail: I'm sold on the ARCA system, and it's one less thing to add weight to this rifle (or to buy!).
Integral bubble level: I can take the level off my scopes now if desired!
AR compatibility: It's great to be able to use AR buttstocks and grips
Burnt Bronze Finish: It's my favorite!
I haven't had any issues or complaints with this chassis at this point. If I do have any problems or gripes, I'll include in future stories.
Get Yours
Again, here's the items I featured in this story:
Look for more follow-up stories shortly. Don't miss out on these Ultimate Reloader updates, make sure you're subscribed!
Thanks,
Gavin