It's been a long time since Dillon Precision has introduced a new reloading press. Dillon Precision has taken the strategy to introduce products only when there's really something new to bring to the market. And this is consistent with how I describe Dillon Precision products: "Tried and True". So when I heard that Dillon had introduced the new XL-750 5-station progressive reloading press (an improved version of the XL-650) I thought to myself: "This will be interesting". And interesting it is indeed! In this article/video I'll go in-depth on this new press- including unboxing (press and case feeder), setup, loading pistol, caliber changeover (all steps), loading pistol, total cost of ownership, and pros/cons. Buckle up!
What's In the Box (XL-750 Press)
The XL-750 press kit comes with everything you need to load a particular caliber with the exception of dies and consumables/accessories. In the picture above we have the box contents for the XL-750 (223 caliber option shown, from left to right):
Case feed components: support bar, stand-off bracket (blue), drop tube, mounting hardware
Powder measure with both pistol and rifle slide bars + fail-safe rod (return rod)
Caliber changeover parts box, caliber-specific parts
Low primer warning system with AAA battery
Owner's manual and quick start guide booklet (top)
Primer pick-up tubes (large + small), primer tube (size not installed in press), extra tube ends
Allen key set
Press handle
Primer slider (press comes with both large and small sliders, one installed in press)
Press assembly
Completed cartridge discharge chute
Spent primer catcher
Completed cartridge bin
In addition to the components supplied for loading a specific cartridge, the press comes with everything you'll need to change from large to small primers as well as pistol + rifle powder measure configurations.
What's In the Box (XL-650/XL-750 Case Feeder)
The XL-650 / XL-750 case feed kit comes with everything needed to automate case feeding for your XL-650 or XL-750 press, including one case feed plate (not shown above). You can also purchase the case feeder without a case feed plate if you already have the feed plates you need.
Box contents:
Motorized case feeder assembly
120V/240V multi-voltage power adapter and plug adapters for most international regions
Spacer washer (used for some specific case lengths under case feed plate)
Mounting screw
Instruction booklet
Setting Up the Press and Case Feeder
The XL-750 comes out of the box "mostly assembled". You'll need to mount the press and then finish putting things together in order to start loading ammunition.
Here's a couple guides I put together outlining everything needed to load either pistol or rifle ammunition. If you haven't loaded either pistol ammo or rifle ammo, these articles are worth a read:
As outlined in the video, you'll need to complete the following steps to prepare for loading:
Mount the press using the press frame holes (1/4″ x 20 bolts), or a press mount such as Dillon's Strong Mount or Inline Fabrication's Ultramount
Bolt the case feed support bar to the press frame (using supplied hardware)
Install case drop tube support bracket (if not installing powered case feeder)
Install case drop tube block and drop tube
Install press handle
Install powder die in toolhead
Drop in powder funnel (combo funnel/expander for pistol)
Install powder measure on powder die, install fail-safe rod
Install battery in low primer warning buzzer, install buzzer on primer shield cap
Install and adjust dies
Optional: Install and adjust powder check system
Optional: Install case feed bowl and case feed plate, adjust feed plate clutch if needed
Above: Dillon Carbide 223 three die set was used for this reloading setup, an outstanding die set for volume loading 223.
Loading 223 on the XL-750
The XL-750 is a GREAT option for volume loading 223! For this loading setup, I used the following equipment setup:
Dillon XL-750 with Case feeder
Small rifle case feed plate
Rifle powder bar in powder measure
Dillon Dillon Carbide 223 three die set (see below for station utilization)
And here's how the stations were setup on the XL-750 for 223:
Above we have:
Sizing/de-priming
Priming (bottom of stroke), powder charge (top of stroke)
Empty (placeholder for Dillon powder check system)
Bullet seating
Crimp
This setup worked 100% with no malfunctions once I tweaked a few things:
I slightly bent the case retention wire at station #2 towards the center of the shellplate
I installed a spring on the primer slider that helps keep the plastic pulley away from the bar (a viewer told me about this!)
This was my first test-drive of the new priming system on the XL-750 (biggest change over the XL-650). In short: I LOVE it. Very smooth, on-demand, excellent feel (bottom of stroke), and 100% reliable with the tweaks listed above.
Caliber Changeover (Complete)
When you go to change over calibers, there are multiple variables what will dictate how long it will take, and how many steps you'll have to complete including:
Whether there is a primer size change
Whether there is a powder bar change (rifle to pistol or vice-versa)
How much "dedicated equipment" you have (example: dedicated toolhead with powder measure)
Here's the complete list of caliber changes (assuming dedicated toolheads used)
Remove fail-safe rod and powder measure
Remove toolhead pins and slide out toolhead
Slide in new toolhead, replace pins
Remove locator buttons, ejector wire, loosen hold-down bolt allen screw, remove hold-down nut, shellplate, and case slider plate
Replace new case slider plate, shellplate, hold-down bolt, tighten hold-down bolt allen screw, install ejector wire, install locator buttons
Change over primer system (slider, primer tube) *Only if primer size is different
Change over powder measure bar *Only if changing from rifle to pistol of vice versa)
Change over case feeder small parts including case feed plate *Case feed plate change only needed in some cases
Additional notes:
Some cartridges (Example: 6.5 Creedmoor and 308 Winchester) will share some caliber changeover parts (including shellplate + case feed parts)
If you are "in practice", the caliber changeover (worst case) should take 10-15 minutes at worst assuming you've emptied your primers, powder, and cases from the case feeder. Best case you can do a caliber changeover (including toolhead) in about 5 minutes.
Loading 45 ACP on the XL-750
Just like with 223, loading 45 ACP on the Dillon XL-750 was exceptionally smooth and pleasant! Loading 45 ACP was also 100% functioning once I got things "dialed in". For 45 ACP, I crushed the tops of a couple of Hornady 230 grain 45 caliber bullets due to tipping. After a quick inspection I noticed that I had insufficient case mount expansion. So I lowered the powder die (and drop funnel expander) to increase the case mount expansion. This totally resolve the issue: standard press setup process.
Here's the station utilization for 45 ACP on the XL-750:
Above we have:
Sizing/de-priming
Priming (bottom of stroke), powder charge and case mouth expansion (top of stroke)
Empty (placeholder for Dillon powder check system)
Bullet seating
Crimp
The next things I'd like to look at for both the 223 loading setup and the 45 ACP loading setup would be to add the powder check system and a bullet feeder setup. That would take this press to the next level!
XL-750 Total Cost of Ownership
Buying a reloading press is a bit like buying a car: you want to make sure you fully understand the "total cost of ownership" before laying down your money! A bit of a cost-benefit analysis. With reloading press systems there can be surprises (such as presses that don't come with everything for large/small primers or rifle/pistol powder measure setups.
Here's the numbers for a few setups including a single caliber, two calibers, and four calibers.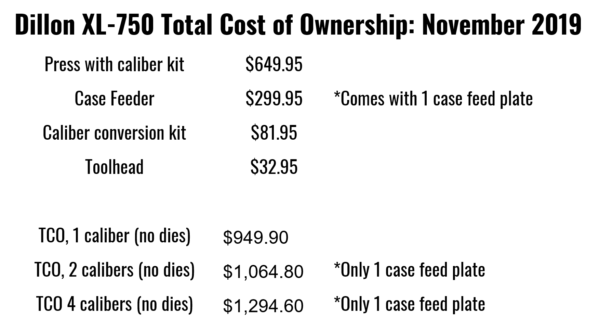 For the figures above, you'll need to add or subtract the following:
Case feed plates (small pistol, large pistol, small rifle, large rifle) may be needed
Some caliber conversion kits may be shared (Examples: 308/6.5 Creedmoor and 357 Magnum/38 Special)
Dies can vary widely in price and quality
Some extras (like dedicated powder measures) can greatly simplify caliber changeovers
For each new caliber you add, you'll want the following (in some cases caliber changeover parts can be shared between calibers):
Considering the quality of the XL-750 and the reliable/smooth functioning, I believe the XL-750 system represents a VERY solid value.
XL-750 Pros/Cons
There is no one reloading press system that can "optimize everything", and no single company can patent all of the good ideas. It's therefore necessary to pick a system based on the "Best overall value and features" for you and your needs! Here are some pros and cons for the XL-750 system that should be helpful. These insights are provided based on my intimate knowledge of most reloading presses on the market today.
XL-750 Pros:
Quality, fit and finish
Made in USA
Reliable and smooth functioning
Best-in-class case feeder
Much-improved priming system
XL-750 Cons:
Cost: this system costs more than some others, including caliber change over total kit cost
Tool Head design doesn't permit quick single die removal/replacement (Examples: lockout die fix or powder measure dump)
Conclusion
I really like the XL-750! Dillon is conservative about launching new products- and that's a good thing when you want something that's been well engineered and tested. Since it's compatible with the XL-650 caliber changeover parts, it makes a great upgrade from the XL-650 or 2nd press next to an XL-650.
If you want your own XL-750, you can get from multiple vendors (and perhaps your local shop), but you can also order directly from Dillon Precision's Website.
I'll be posing a story outlining all of the differences between the XL-650 and XL-750 presses, you'll want to check that out!
What do you think of the new Dillon XL-750? Please drop a comment!
Don't miss out on Ultimate Reloader updates, make sure you're subscribed!
Thanks,
Gavin