Ultimate Reloader is proud to be partnered with the Mayville Engineering Company (MEC). Here are a few words from MEC that will tell you the "story" of their history and product portfolio.
History
1945 – Mayville Engineering Company, Inc. was founded by cousins Leo and Ted Bachhuber. The original manufacturing facility was a rented garage building in a back alley off Mayville's Main Street. Total assets of the company included a few worn metal working tools, a little cash, and an abundance of grand ideas. The original letterhead bore the title "Tools, Dies, and Special Machinery." For the first fledgling years, MEC concentrated on these products as well as offering their services to the larger manufacturers in the area. Soon Leo departed for other ventures, leaving Ted and his wife Grace to breathe life into their dream.
Progress was slow in these formative years, but as the company became known for the quality of its products and the resourcefulness of its personnel, the pace quickened. Almost overnight, the company became desperate for additional production space to keep up with the growing demand for its products. MEC acquired a small warehouse adjacent to its rented garage, and later purchased a commercial building at 10 South Main Street where an office and assembly facilities could be established.
1955 – MEC entered the Shotshell Reloaders market and would later be known as the #1 Shotshell Reloader in the World, having sold over 2 million machines worldwide.
1985 – MEC became a company that is 100% Employee-Owned (ESOP). This becomes an important milestone for the business as our employee shareholders are not only invested in the company, but also develop a sense of pride and ownership in the company they work for.
2008 – MEC acquired a new facility on Horicon Street in Mayville, known as MEC Mayville North. The factory houses the assembly, shipping, customer service and store for MEC Shotshell Reloaders and the MEC Outdoors business.
2012 – The company's contract manufacturing business continues to grow and MEC acquired Michigan-based Center Manufacturing, expanding operations to 16 facilities in five states. MEC now has over 2,000,000 square feet of manufacturing and 2,000 employee shareholders.
2013 – MEC acquired APEX Clay Traps and introduced the MEC Clay Target Machine product line. This is an exciting time for the employee shareholders at MEC as they expand the successful shooting sports business.
2016 – MEC launches Metallic Reloader line with the single stage MEC Marksman and accessories. This was an exciting addition to the shooting sports business of MEC Outdoors.
2018 – MEC acquires Defiance Metal Products (DMP) an Ohio-based manufacturer totaling the MEC facilities to 21 in eight states.
2019 – MEC Shooting Sports re-brands under the name of MEC Outdoors to expand product offerings to outdoor enthusiasts.  MEC announced the pricing of initial public offering and in May shares begin trading on the NEW York Stock Exchange under the symbol "MEC".
Metallic Intro
In 2016, MEC Outdoors introduced their first metallic reloading press: the MEC MarksmanTM. As an industry-leading manufacturer of shotshell reloading presses and equipment, MEC brought its knowledge and expertise to the metallic reloading marketplace. In addition to the MEC MarksmanTM, the Metallic line includes reloading accessories and essentials. A powder measure, powder trickler, scale and calipers are available to complete the MEC MarksmanTM reloading experience. An additional base is available for easy installation and is compatible with the MEC Jig Fixture mounting system. Case prep tools and components are also available.
Shotshell Intro
Since 1955, Mayville Engineering Company has been designing, building and servicing the best shotgun shell reloaders in the world.  MEC reloading equipment has earned the trust and loyalty of generations of customers from children to seniors and the casual hobbyist to the competitive shooter. For folks who love shotguns, shotshell reloading is a rewarding indoor hobby. There's nothing quite like the satisfaction of breaking a clay target, downing a game bird or scoring a hit on small game with your own reloaded shells.  Reloading also saves you money versus purchasing new shells.  And, most importantly, reloading has also brought friends, families and generations together.
Clay Target Machine Intro
With over 60 years combined experience in the clay shooting industry, we design and manufacture the very best commercial grade automatic clay throwers. Our design brief was simple, build a machine that will be easy to use and throw more variations of target presentations. The machines are dependable, extremely strong and robust. They're light enough to move around a sporting clays course with ease. In short, MEC's Clay Target Machines provide an excellent value for the money!
MEC's Clay Target Machines offer extreme tilt capabilities for unrivaled target presentations. Our extensive product offering includes all of the electric and automatic trap throwers that your club or personal shooting range will need. Look to our "E-Series" for a full line of 100, 200, 300 and 400 bird machines, including skeet set and wobble variations. Step up to MEC's exclusive "XP-Series" skeet throwers for extra heavy-duty motors and top-notch performance.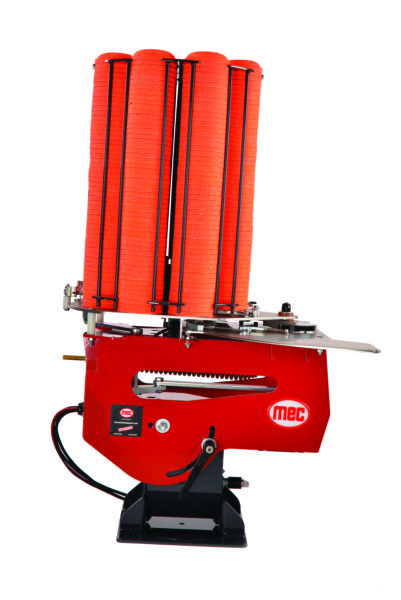 Marksman Overview
Introducing the all new MEC MarksmanTM, our single stage metallic reloader.  Reload with the ultimate precision tool. The MEC Marksman is made of ductile cast iron for strength and durability and our patent-pending shell holder self-centers each cartridge. The ram provides smoothness and accuracy for every load. Compatible with all 7/8-14 thread dies to change calibers quickly. Reload .22 Hornet to .416 Rigby with one convenient machine.
You can check out the MEC Marksman right here on Ultimate Reloader:
Look for more MEC stories here on Ultimate Reloader this year!