There are some powders that are noteworthy for both their performance, and their versatility. When it comes to rifle powders, the first one that comes to my mind to fit these criteria is Hodgdon Varget. In this article, we'll go "in-depth" with Varget, including a look under the microscope!
Disclaimer
Ultimate Reloader LLC / Making with Metal Disclaimer: (by reading this article and/or watching video content you accept these terms)
The content on this website (including videos, articles, ammunition reloading data, technical articles, gunsmithing and other information) is for demonstration purposes only.
Do not attempt any of the processes or procedures shown or described on this website.
All gunsmithing procedures should be carried out by a qualified and licensed gunsmith at their own risk.
Do not attempt to repair or modify any firearms based on information on this website
Ultimate Reloader, LLC and Making With Metal can not be held liable for property or personal damage due to viewers/readers of this website performing activities, procedures, techniques, or practices described in whole or part on this website.
By accepting these terms, you agree that you alone are solely responsible for your own safety and property as it pertains to activities, procedures, techniques, or practices described in whole or part on this website.
About Hodgdon Varget
From the Varget Product Page:
Varget is an extruded propellant in the Hodgdon line of Extreme series of powders. Varget features small, extruded grains for uniform metering, is insensitive to hot and cold temperatures and produces higher energy for improved velocities over other powders in its burning-speed class.
The powder ignites quickly and burns clean, translating into superb accuracy, higher scores and more clean, one-shot kills.
Varget is the perfect powder for shooting the 223 Remington with heavy bullets in competitive matches. Outstanding performance and velocity can be obtained in such popular cartridges as the 22-250 Remington, 308 Winchester, 30-06, 375 H&H and many more.
Available in 1 lb. and 8 lb. containers.
Burn Rate
Hodgdon Varget falls in the middle of the burn rate chart when examining rifle powders:
When looking at burn rate, you want to think of it in terms of:
The cartridge being loaded
The weight of the bullet being loaded
Barrel length (rarely a big consideration)
Performance requirements
It just so turns out that Varget falls in a GREAT burn rate sweet spot for a lot of cartridges,: here's some I've gotten great results from:
223 Remington
224 Valkyrie
6 Dasher
308 Winchester
Here's a picture of some of those loads: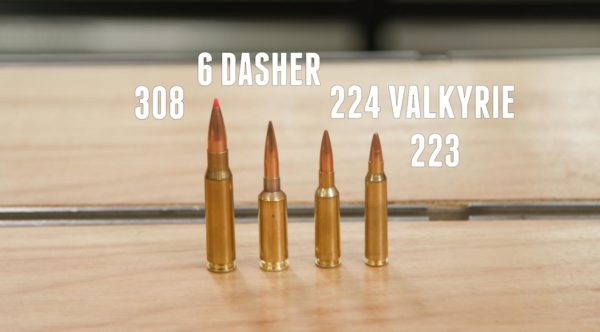 Density Comparison
Just like when I tested Winchester StaBALL 6.5, I performed some "informal" density calculations for Varget. This was a casual test where I poured 200ml of Varget into a measuring cup on a non-precision scale (my precision scales don't handle this kind of weight 🙂 ). Here's the results:
It's interesting how close in density Varget and H-4350 are!
Hodgdon Granule Characteristics
Varget is a short stick powder, and when viewed under the microscope, it looks similar to other short stick powders like Hodgdon H-4350:
When viewed along side a steel scale, we can quantify the length of these sticks, here's data for Varget and other similar powders:
Performance Results
Varget has produced "best results" for multiple cartridges I load for (6 Dasher and 224 Valkyrie being two examples). Here are some highlights from my shooting and loading using Varget.
My best group to date was shot with the following rifle: (one of my personal custom builds)
Specs: (See full build HERE)
Barrel: Benchmark
Stock: Manners T2A-GAP
Trigger: TriggerTech Diamond
Load:
New Alpha Munitions 6 Dasher Brass
Berger 105 Hybrid bullet
32.4 grains Varget
Primer: CCI BR4
Disclaimer: Use load data at your own risk. Ultimate Reloader is not responsible for errors in load data on this website. Always cross-reference load data with manufacturer's published data.
…and here's the best 100y 5-shot group: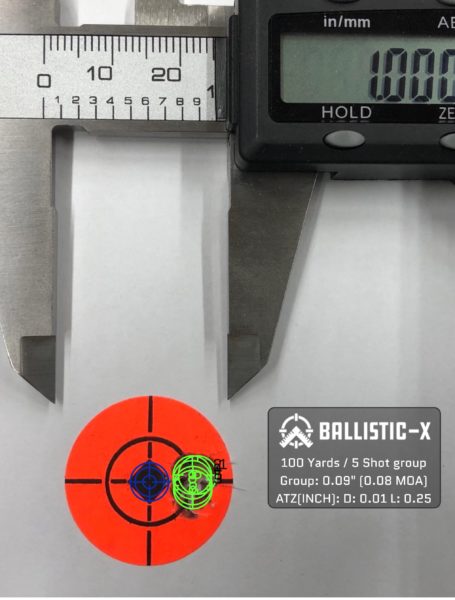 What's more: I saw SD numbers during load development down to 2.2 FPS! Amazing consistency!
224 Valkyrie
I found an amazing load using Varget that worked VERY well in both the bolt action rifle I built *and* the AR-15 that I built (chambered using the same chambering reamer).
Here's one of the groups shot from the bolt gun:
And here's some results from the AR-15, from my 600 yard shooting story:
AR-15 224 Valkyrie Rifle
This 224 Valkyrie AR-15 has the same barrel length and twist rate as the Remington 700 bolt gun (24″, 1:7 twist). I've found that it takes a lot more work to get an AR-15 to shoot tight groups- something I notice each time I switch 224 Valkyrie rifles. But with practice and the appropriate mindset, these AR-15 rifles can do real well! Here's a group that I shot with the same load that we shot at 600 yards for this story: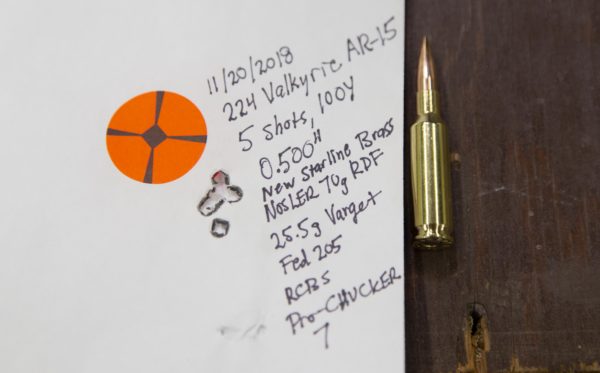 Conclusion
As noted previously, I've also gotten great results from both 223 and 308 with Varget (See my Budget Precision 223 Series), but haven't tested those cartridges with a custom rifle build YET.
If you are looking for one of the best performing and most versatile powders out there, give Hodgdon Varget a try!
Get Varget at Midsouth Shooters Supply
If you are looking to buy Varget, check out the stock at Midsouth Shooters Supply!
Don't miss out on Ultimate Reloader updates, make sure you're subscribed!
Thanks,
Gavin