There are some times when it pays to spend more for top quality. If you're building a precision rifle, the action is one of the most critical investments you'll make. I've long been wanting to try out an action from BAT machine, and now is that time! In this article I'll give an overview of the TR (Tactical Repeater) action which just made it to my shop, and give a preview of the 6 Dasher build I'll be using this action for.
BAT Machine Brief Overview
Back in 1991, Bruce Thom  (pictured above) started BAT Machine which was later incorporated in 1996. BAT actions have been very popular and well-known in Benchrest circles- with a ton of different Benchrest actions to choose from as you can see from this website snapshot: (click image to visit page)
These benchrest actions span from smaller centerfire applications all the way up to the EX action which can handle cartridges like the 50 BMG! BAT also makes a few different repeater style actions which span applications like hunting, and more recently tactical applications (the topic of this article!).
2017: BAT Goes Tactical
In 2017, BAT debuted the "TR" (Tactical Repeater) action. This action built on the basic design of the VR action (short action Varmint Repeater) and added some tactical features for applications like PRS. The TR action was announced at the 2017 SHOT Show (see article from accurateshooter.com below, click for full article)
The BAT TR action is available from retailers like Bullet Central.
BAT TR High-Level Features/Specs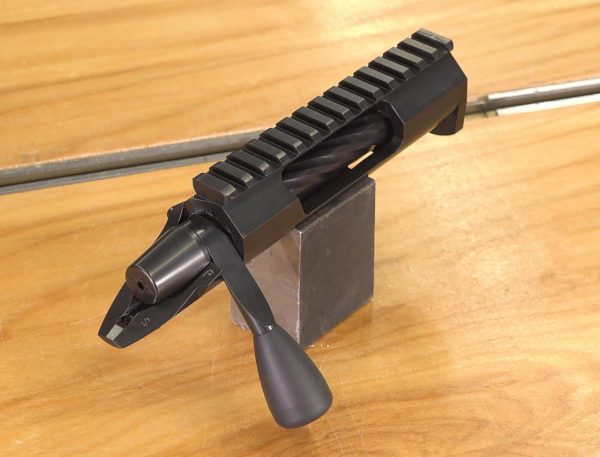 Here's the quick facts for the BAT TR:
Remington 700 footprint semi-clone

2-lug 90° throw

Short action only

1 1/16" x 18 TPI tenon/receiver threading

Compatible with most Remington 700 stocks and accessories

8.08" long and 1.35 inches in diameter, 33.4 oz in weight

Optimal for use with 1.200" and larger barrel shanks
BAT TR Receiver Body
Above we have the bottom view of the TR receiver body showing:
Receiver body is CNC machined from 17-4 stainless steel with oversize 0.720″ receiver raceway, oversize ejection port
Integrated 20 MOA Picatinny rail
Integrated 0.250″ recoil lug with tapered sides
Wide bottom cut accommodates double-stack magazines
Trigger hanger with multiple length adjustment options (two hangers included)
Here's the other side of the receiver body:
Above we have:
External bolt stop/release
Receiver threads: 1 1/6″ x 18 TPI
BAT TR Bolt
The TR Bolt has some notable and unique features:
Bolt body is oversize for 0.720″ receiver raceway and is fluted, 4140 Chromoly steel
Bolt nose is thicker and is recessed for optimum feeding
M16 style extractor
Modular bolt: front portion is removable (can switch bolt faces this way)
Oversize bolt knob (handle is threaded 5/16 x 24)
Tapered shroud
The firing pin is also "custom" to the TR action:
Some notes about the firing pin assembly:
A special tool is used to remove the firing pin assembly from the bolt body (not the same as factory Remington 700, see video)
Tip of firing pin is captive in bolt (firing pin hole) even when fully cocked
Critical components are nitrided for low friction, rear shroud is burnished for consistent action
When you add up all of the features and benefits for this BAT TR action, you can see this is a top-quality action that "leaves nothing on the table" for quality or capability. I can't wait to build my 6 Dasher PRS rifle with this action! I'll be documenting my experiences building and shooting this rifle right here on Ultimate Reloader so make sure you're subscribed!
Where To Get Yours
If you are looking to buy a BAT Action, you can do so from the following distributors here in the USA (for additional country distributors, check out the distributor page on BAT Machine's website)
Bruno Shooters Supply; Contact: Lester Bruno; e-mail: brunoshooterssupply@hotmail.com; Phone: 623-587-7641; Web: www.brunoshooters.com
Bullet Central; Contact: Luke Albin: e-mail; luke.albin@bulletcentral.com : Phone: +1 (701) 371-4444; Web: www.bulletcentral.com
Mackey's Machine; Contact: Chris Mackey; e-mail: c.m.mack@hotmail.com; Phone: 304-622-5369
Wolf Precision; contact: Jamie Dodson; e-mail: wolfprecision@atlanticbb.net; Phone: 814-262-7994; Web: www.wolfprecision.net & http://battacticalactions.com
Thanks,
Gavin