Our Winchester Model 70 is getting a facelift with a new Boyds stock and Athlon optic! 
Disclaimer
Ultimate Reloader LLC / Making with Metal Disclaimer: (by reading this article and/or watching video content you accept these terms). The content on this website (including videos, articles, ammunition reloading data, technical articles, gunsmithing and other information) is for demonstration purposes only. Do not attempt any of the processes or procedures shown or described on this website. All gunsmithing procedures should be carried out by a qualified and licensed gunsmith at their own risk. Do not attempt to repair or modify any firearms based on information on this website. Ultimate Reloader, LLC and Making With Metal can not be held liable for property or personal damage due to viewers/readers of this website performing activities, procedures, techniques, or practices described in whole or part on this website. By accepting these terms, you agree that you alone are solely responsible for your own safety and property as it pertains to activities, procedures, techniques, or practices described in whole or part on this website.
Boyds Pro Varmint Stock and Adjustments
I've been trying to get a bit more adventurous with colors, like orange in the Boyd's Agility.
This time, I selected Zombie Green Laminate in the Boyds Pro Varmint. I selected this stock as it has a generous area with lots of material for me to open up for the barrel.
I opened up the barrel channel with a 1 ¼" bit on the Precision Matthews 949TV and it fit the action perfectly. Everything fit tightly, so I decided to mount the optic and shoot the gun to see if it needed bedding after all.
I also added a 4" Salmon River Solutions ARCA Rail to mount an MDT GRND-POD. This was a simple task as it used the existing holes from the swivel studs. 
About the Athlon Argos BTR Gen 2 8-34×56:
I've been wanting to upgrade my Weaver scope for some time to something more tactical. I selected the Athlon ARGOS BTR Gen 2 8-34x56mm.
From Athlon: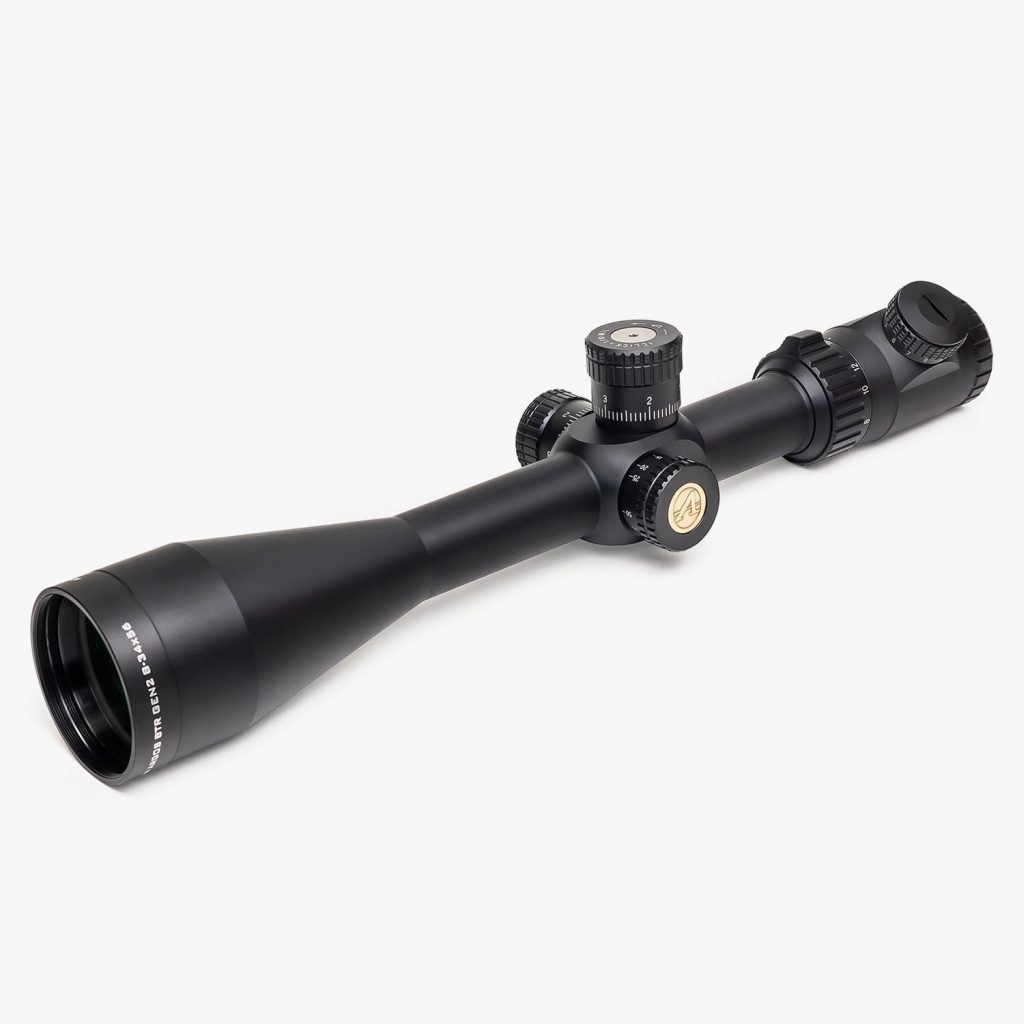 If you're looking for a top rated rifle scope, check out the Argos BTR GEN2 family of rifle scopes. The Argos BTR GEN2 family is great for those looking to get started in PRS or other long range shooting disciplines. This family of rifle scopes featuring FFP and SFP models, True Precision Zero Stop, Fully Multi-coated Lenses, Direct Dial Elevation & Windage Turrets (Capped in 1-8×24), Illuminated Reticle, 30mm Tube.
Product Specifications:
Magnification: 8-34x

Obj. Lens Diameter: 56 mm

Tube Diameter: 30 mm

Eye Relief: 3.3" 

FOV @ 100 Yards: 12.5 – 3 ft.

Parallax Adjustment: 15 yards

Click Value: 0.1 Mil

Length: 15.5"

Weight: 32 oz.
What's in the Box
The magnetic closing box is convenient for storage and contains the optic with covers, instructions, a lens cloth, Allen keys and a battery. 
Mounting
I paired the Athlon scope with Athlon Precision Rings and bought an EGW 20 MOA rail to round out the scope upgrade.
With some help from Wheeler Tools, it wasn't long before everything was ready to go. I also added an AREA 419 Hellfire muzzle brake. 
Shooting 
I decided to use this rifle-testing opportunity to also fire some new .22-250 loads I reloaded with StaBALL Match and Hornady's 60 grain .224 V-Max. This load had an average velocity of 3618 fps and a standard deviation of 10 fps. Groups measured in the 0.5 MOA range. 
We had some leftover mini water bottles from the Rock Chuck Olympics, which approximated a squirrel-sized target, and shot them at 150 and 336 yards. (We're trying not to shoot steel right now with fire dangers.) 
It was really easy to see the sub-tensions on the reticle and hold over. 
Conclusion
It was really fun to shoot something different, and I was very pleased with this rifle's performance. I look forward to using this gun to eliminate rock chucks, squirrels, and coyotes. The Boyds Pro Varmint stock performed well and I decided not to bed it. 
Get the Gear
Athlon Argos BTR Gen 2 8-34×56
Salmon River Solutions ARCA Rail
Winchester StaBALL Match at Midsouth Shooters Supply
Hornady's 60 grain .224 V-Max at Midsouth Shooters Supply
Don't miss out on Ultimate Reloader updates, make sure you're subscribed!
Thanks,
Gavin Gear