7mm PRC has taken the gun world by storm. We were fortunate enough to be part of Hornady's official launch, creating two custom builds, our Freedom rifle and Bergara full-custom. We've also compared the cartridge to 6.5 PRC, 300 PRC and 7mm Rem Mag. 
Disclaimer
Ultimate Reloader LLC / Making with Metal Disclaimer: (by reading this article and/or watching video content you accept these terms). The content on this website (including videos, articles, ammunition reloading data, technical articles, gunsmithing and other information) is for demonstration purposes only. Do not attempt any of the processes or procedures shown or described on this website. All gunsmithing procedures should be carried out by a qualified and licensed gunsmith at their own risk. Do not attempt to repair or modify any firearms based on information on this website. Ultimate Reloader, LLC and Making With Metal can not be held liable for property or personal damage due to viewers/readers of this website performing activities, procedures, techniques, or practices described in whole or part on this website. By accepting these terms, you agree that you alone are solely responsible for your own safety and property as it pertains to activities, procedures, techniques, or practices described in whole or part on this website.
About RCBS 7mm PRC Dies
At SHOT Show 2023 I spoke with Justin Smith from RCBS about their new die sets, which include 7mm PRC! 
Today I'm testing the full-length die set in 7mm PRC, but MatchMaster dies are also available. 
From RCBS: 
These two die-sets are intended for reloading bottleneck cases, and consist of a Full-Length Sizer Die with an Expander-Decapping Unit, and a Seater Die with Bullet Seater Plug. The Full-Length Sizer Die brings the case to SAAMI minimum cartridge dimensions. This die sizes the outside of the case, de-primes, and expands the neck to accept the bullet. The die has vents to prevent case damage caused by trapped air and excessive lubricant. Headspace is held to minimum tolerances to avoid changing the case body length during full-length sizing. The included Seater Die has a built-in roll crimper to secure the bullet at the same time as it's seated
Don't forget the shell holder – Click Here to Get Yours.
Standard 7/8″-14 Thread

Proprietary Die Steel

Set includes Full-Length Sizing die and Bullet Seating Die

Sizing die brings cases to SAAMI minimum cartridge dimensions

Ships in Green Die Box
What's in the Box
In the hallmark RCBS green box is a full-length sizing die with decapper and bullet seating die along with some directions. 
Set-Up and Test
For this session, we're using the RCBS Summit Press. It has a unique, almost upside-down design that lends itself to portability. We started by adding a magnum shellholder and screwing in the full-length sizer. We lowered the ram (rather than raise it) until you can feel the die touch the shellholder.  When I set up sizing dies, especially new dies, I like to add extra case lube to help prime the die. 
Before loading anything, I took an unsized case and obtained a good zero using digital calipers and a Hornady headspace comparator. This makes it easy to see exactly what effect sizing has on the shoulder. After resizing my first case, I had a bit of adjustment to make. I kept measuring and turning the die until the calipers read -0.0015″, just where I wanted it to be. This is a great number for a bolt gun. -0.0025″ to -0.0035″ is better for a semi-auto. 
After removing the sizer die, I cracked the seating stem on the seater die and began screwing it into the press until it contacted the case or the shell plate, whichever came first. (I used a dummy 7mm PRC round to aid in this step.) When I was happy with it, I screwed in the seating plug. After seating two bullets, I verified the overall length. 
To check seating die performance, I analyzed bullet runout using a Sinclair Concentricity Gauge. The gauge returned an indicator reading of approximately 0.0025". This means approximately 0.00125" on each side, good for a regular seating die. 
Get the Gear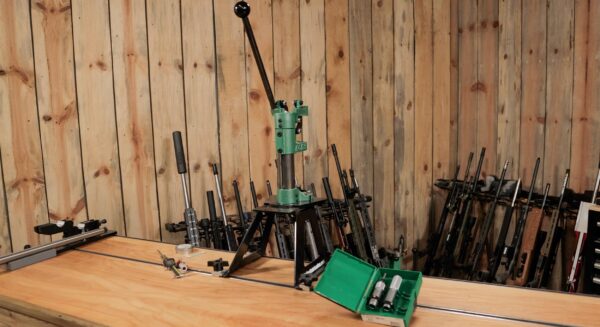 Find the new dies at RCBS.com!
Find the RCBS Summit Press at Midsouth Shooters Supply! 
Don't miss out on Ultimate Reloader updates, make sure you're subscribed!
Thanks,
Gavin Gear