The 7mm PRC is HERE! In this story I'll give a complete overview of this new cartridge including specs, a comparison with other cartridges in its class, talk 7mm PRC ballistics, and give you a preview of much more 7mm PRC content that's coming!
Disclaimer
Ultimate Reloader LLC / Making with Metal Disclaimer: (by reading this article and/or watching video content you accept these terms)
The content on this website (including videos, articles, ammunition reloading data, technical articles, gunsmithing and other information) is for demonstration purposes only.

Do not attempt any of the processes or procedures shown or described on this website.

All gunsmithing procedures should be carried out by a qualified and licensed gunsmith at their own risk.

Do not attempt to repair or modify any firearms based on information on this website

Ultimate Reloader, LLC and Making With Metal can not be held liable for property or personal damage due to viewers/readers of this website performing activities, procedures, techniques, or practices described in whole or part on this website.

By accepting these terms, you agree that you alone are solely responsible for your own safety and property as it pertains to activities, procedures, techniques, or practices described in whole or part on this website.
7mm PRC Quick Facts
7mm PRC is its own cartridge, different from the 6.5 PRC and 300 PRC fundamentally. Here's some quick specs:
7mm PRC SAAMI Specs
On June 28, 2022 SAAMI officially released the specifications for the 7mm PRC which you can download HERE.
With a limit of 65,000 PSI, and compatibility with 300 Win Mag and similar rifle platforms (including magazines), the 7mm PRC has great power and flexibility. If you have a long action magnum rifle (with 0.532″ bolt face), upgrading to 7mm PRC is likely just a barrel change!
7mm PRC Bergara / Boyds Build Preview
Rifle #1 for this project is built on the following:
Plus, a full Cerakote job on the barreled action. There will be a dedicated story on this build!
7mm PRC Bat / MDT "Freedom Rifle" Build Preview
Rifle #2 for this project is a spare-no-expenses top-shelf build focused on long-range target shooting. Here's what makes up this build:
Bat HR Action (LA)
MDT ESS Chassis (With FDE + engraving on barreled action)
Like with the Bergara build, there will also be a dedicated story for this Bat/MDT build!
Quick Look: All Three PRCs Compared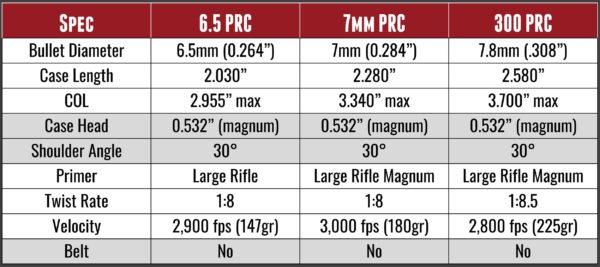 The "Three PRCs" share a lot in common. All three of these magnums are serious long-range cartridges with 0.532″ case rims, 30° shoulders, and optimized around long, slender high-BC bullets. 6.5 PRC can fit in a short action, where 7mm PRC and 300 PRC both require a long action.
7mm PRC Ballistics
I was surprised at how well the 7mm PRC performs with ballistics!
PRC Reference Ballistics
For ballistic comparisons, the following were used as a baseline: (taken from SAAMI references)
6.5 PRC: 147gr @ 2,900 fps
7mm PRC: 180gr @ 3,000 fps
300 PRC: 225gr @ 2,800 fps
Drop Comparison: The Three PRCs
Can the 7mm PRC beat both the 6.5 PRC and the 300 PRC?
The answer is YES. Here's the data for the above chart:
This was a bit of a surprise for me to find out!
Drop Comparison: 7mm PRC -vs- Popular Hunting Cartridges
While this is NOT an "Apples to Apples" comparison, I thought it would be interesting to compare 7mm PRC with other popular hunting cartridges for drop to 1,000 yards. Check this out:
All drop chart calculations were based on Hornady ELD-X bullets, using typical twist rate for guidance on bullet weight: (based on 100 yard zero)
You can see how well 7mm PRC does in terms of having a flat trajectory! Also, per our recent story, we showed that 30-06 and the 6.5 Creedmoor can share nearly the same trajectory!
Initial Testing Results
For testing, I only had two boxes of factory ammunition to start break-in on two rifles! One box of Hornady 7mm PRC 180 grain ELD-M Match ammunition, and one box of Hornady 7mm PRC 175 grain ELD-X Precision Hunter ammunition. So I kept shooting to a minimum as I wanted to keep some cartridges on hand for future reference. The initial results were GREAT.
First Break-In Group on Paper: Bat/MDT 7mm PRC "Freedom Rifle"
First Break-In Group on Paper: Bergara/Boyd's Custom Rifle
Velocity Data Summary, All Testing
The following is a summary of velocity data collected during break-in (all in feet per second):
Here we see approximately 150 fps difference between the 22″ barreled Bergara, and the 28″ barreled Bat custom. Further data will be included in later stories when more shots can be fired (above data utilized 3-shot strings due to limited ammunition being available). This is some impressive performance!
Conclusion
The 7mm PRC brings a very well rounded new option to the table for both match/long-range shooters and for hunters as well. With a simplified beltless case, optimized case geometry, and Hornady's industry-wide efforts bring this cartridge to market, don't be surprised to see the 7mm PRC become one of the more popular new cartridges in the long-action class. I'm looking forward to bringing you many more stories featuring this great new cartridge.
Get the Gear
Bergara Premier Long Action at Brownells
Additional product links will be provided when available!
Don't miss out on Ultimate Reloader updates, make sure you're subscribed!
Thanks,
Gavin