Dillon Precision XL 750 5-Station
The XL 750 is the upgrade/replacement of the XL 650, which we've previously featured. One of the big differences is that the old telephone dial priming system has been replaced by a sliding bar priming system. This full-progressive press is auto-indexing, comes with a drop tube for a case feeder that is sold separately and features quick caliber changes.
Here's the overview video for the Dillon Precision XL 750 published on Ultimate Reloader:
What's In the Box
The XL-750 press kit comes with everything you need to load a particular caliber with the exception of dies and consumables/accessories. In the picture above we have the box contents for the XL-750 (223 caliber option shown, from left to right):
Case feed components: support bar, stand-off bracket (blue), drop tube, mounting hardware
Powder measure with both pistol and rifle slide bars + fail-safe rod (return rod)
Caliber changeover parts box, caliber-specific parts
Low primer warning system with AAA battery
Owner's manual and quick start guide booklet (top)
Primer pick-up tubes (large + small), primer tube (size not installed in press), extra tube ends
Allen key set
Press handle
Primer slider (press comes with both large and small sliders, one installed in press)
Press assembly
Completed cartridge discharge chute
Spent primer catcher
Completed cartridge bin
In addition to the components supplied for loading a specific cartridge, the press comes with everything you'll need to change from large to small primers as well as pistol + rifle powder measure configurations.
What's In the Box (XL-650/XL-750 Case Feeder) 
The XL-650 / XL-750 case feed kit comes with everything needed to automate case feeding for your XL-650 or XL-750 press, including one case feed plate (not shown above). You can also purchase the case feeder without a case feed plate if you already have the feed plates you need.
Box contents:
Motorized case feeder assembly
120V/240V multi-voltage power adapter and plug adapters for most international regions
Spacer washer (used for some specific case lengths under case feed plate)
Mounting screw
Instruction booklet
XL 750 Features and Specs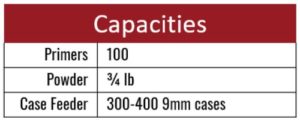 XL 750 Die Stations Example (Pistol)
As shown in the picture above: 
Sizing/de-priming

Priming, powder charge
Powder check (not shown)
Bullet seating
Bullet crimp
XL 750 Total Cost of Ownership
XL 750 Summary
What it's for:
Pistol and rifle reloading up to medium volume
What it's not for:
Budget reloading, commercial reloading
Pros:
Quality

5 Stations
Great case feed system
Quick caliber changes
Cons:
Cost

Bullet feeder powder measure conflict (DAA has solution)
XL 750 Stories on Ultimate Reloader
Dillon XL-750: Unboxing, Setup, Loading Pistol and Rifle Ammo
Mr. Bullet Feeder Caliber Change: 9mm to 45 ACP on Dillon XL-750
XL-750 Bullet Feed Solution (Double Alpha Extra-Short Powder Bar) 
Dillon XL-650 vs XL-750: Differences Explained 
Overview: Mark 7 Autodrive for Dillon XL-750 and XL-650 Reloading Presses
Navigation
Introduction
Hornady Lock-N-Load AP
RCBS Pro Chucker 5
RCBS Pro Chucker 7
Mark 7 APEX 10
Dillon Square Deal B
Dillon RL-550C
Dillon XL-750
Dillon RL 1100
Frankford Arsenal X-10
LEE Pro 1000
LEE Breech Lock Auto Pro (Pro 4000)
LEE Loadmaster
Total Cost of Ownership Recap
Inline Fabrication Mounts
KMS Squared UFO Press Lighting
Conclusion