Dillon Precision Square Deal B 4-Station 
This press is specifically optimized for economical pistol loading — it will not load rifle ammunition. It does not have a case feeder and doesn't have as many bells and whistles as other Dillon progressive presses but is one of your best options for quality pistol reloading on a budget, featuring a shorter, pistol-optimized stroke.
Here's the overview video for the Dillon Precision Square Deal B 4-Station Press published on Ultimate Reloader:
What's In the Box
The Basic machine includes the following: (as pictured above)
1 Square Deal B reloading machine
1 powder measure with large and small powder bars (small installed). The small bar throws from 2.1 to 15 grains of powder. The large bar throws from 15 to 60 grains of powder
1 priming system with large and small priming parts
1 early warning buzzer and rod for primer system
1 packet of primer tubes containing: 1 large primer pickup tube, 1 small primer pickup tube, and 1 magazine tube
1 primer slide assembly
1 powder measure failsafe rod assembly with bracket (13355)
3 locator buttons
1 toolhead
1 powder die
1 caliber conversion kit
1 set of carbide dies (except for 44/40, which uses steel dies)
1 spent primer cup with bracket and screws.
1 loaded cartridge chute with screws and a plastic bin
1 written instruction manual (black and white) + 1 quick start guide (color)
Square Deal B Features and Specs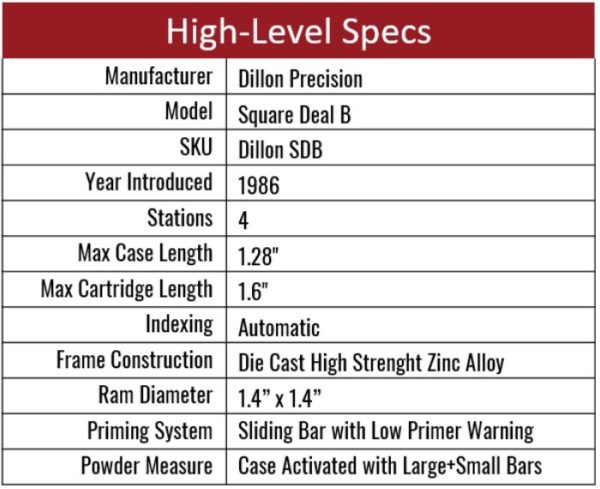 Square Deal B Die Stations Example (Pistol)
As shown in the picture above: 
Sizing and de-priming
Powder Charge/Priming
Bullet Seating
Bullet Crimping
Square Deal B Total Cost of Ownership
Square Deal B Summary
What it's for:
Pistol reloading on a budget
What it's not for:
Rifle reloading, commercial loading
Pros:
Cost

Quality
Simplicity
Pistol-optimized stroke
Cons:
Proprietary dies

No case feeder
Pistol-only
Square Deal B Stories on Ultimate Reloader
Here is an overview and loading story on Ultimate Reloader covering the Dillon Square Deal B press.
Dillon Square Deal B: Overview and Loading 45 ACP 
Navigation
Introduction
Hornady Lock-N-Load AP
RCBS Pro Chucker 5
RCBS Pro Chucker 7
Mark 7 APEX 10
Dillon Square Deal B
Dillon RL-550C
Dillon XL-750
Dillon RL 1100
Frankford Arsenal X-10
LEE Pro 1000
LEE Breech Lock Auto Pro (Pro 4000)
LEE Loadmaster
Total Cost of Ownership Recap
Inline Fabrication Mounts
KMS Squared UFO Press Lighting
Conclusion