Dillon just released the XL-750: an updated version of their popular 5-station XL-650 press (see my complete overview of the XL-750 HERE). If you have a Dillon XL-650, you may be wondering exactly what all of the differences are between the XL-650 and the XL-750. I'll cover all of that in this article!
Summary of Differences
Priming System Updates
The priming system on the Dillon XL-650 used a unique rotary feed system I like to call the "telephone dial". Primers are picked up as the dial rotates, and are fed continuously. For the XL-750, Dillon adopted what they call a "linear priming system" (I call this slide-bar priming) which has two advantages:
The primers are fed on-demand rather than continuously. This prevents primers from being kicked out when you are cycling the press but not continuously loading (such as during die setup or press run-up/run-down).
The stack of primers in the priming tube has a safe separation from the priming station (where a primer detonation may very rarely happen on any press)
Indexing System Updates
For the XL-750, Dillon made a few changes to the indexing system to make it operate more smoothly, and to reduce the accumulation of debris in key areas. This involved the addition of a roller to ride against the indexing cam, and moving the indexing pawl.
Here's the XL-650 indexing system components: (top view)
And here's the XL-750 indexing system components (top view):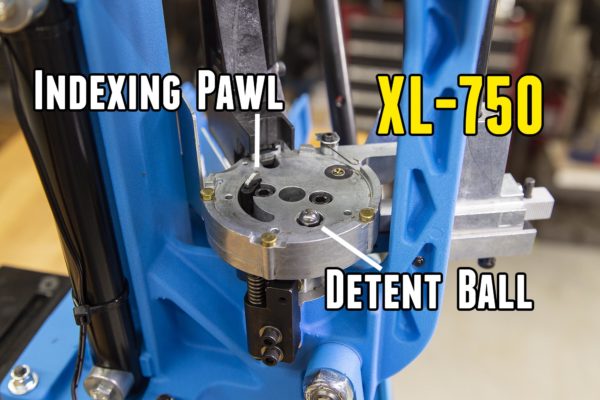 From my experience so far, I can tell you the XL-750 indexing system is smoother than the XL-650! This helps for short cases like 45 ACP where powder spillage is always a concern…
Press Frame Mass
The Dillon XL-750 (left above) has about 15% more mass and a new design that enhances stiffness and strength compared to the XL-650 (right above). You can most easily tell the difference when looking at the left-hand side of the press on the main vertical member.
Pivot Pin Zerk Fittings
On my XL-750, I noticed that Dillon had put zerk fittings on the linkage pivot pins. Now that's nice! I'm not sure if they added this before the XL-750, or if it was new for the XL-750, but I like that kind of convenience a lot!
The XL-750 is a worthy upgrade over the XL-650. Both are great machines, but personally I really like how the priming system works on the XL-750. Do you have thoughts? Please leave a comment below!
Get your own XL-750
If you want to get your own XL-750, you click here:
XL 750 Reloader on dillonprecision.com
Don't miss out on Ultimate Reloader updates, make sure you're subscribed!
Thanks,
Gavin