**Update: I've heard of multiple experiences where Dillon has wanted to charge customers for this kind of service (fixes, etc). Your mileage may vary!
In my last post, I documented the "Before" part of Lewis Curtis' Dillon XL-650 No B.S. Warranty story. In this post, I'll follow-up with what Dillon decided to do with Lewis' repair job.
Here's what the box looked like when it was sent back from Dillon. The machine was sent in my old XL-650 carton, but it appears that a different box and packaging was used to send the machine back- perhaps a new one!
The No B.S. Warranty stamp of certification is clearly visible on the exterior. At this point, I'm really wondering what we're going to see when we open the box!
The machine was packed as if it were a brand new machine, and with care. Dillon's packing materials are high-end no expense spared affairs. Custom molded inserts and liners assure that the machine does not get damaged or marred in transit.
Here we see the summary of the repair work. Truly amazing. An extensive repair/reconditioning job was perofmed, and at no cost at all to Lewis!
It was very difficult to tell that this was not a new machine when we saw it come out of the box. Everything was in order, and man of the parts were replaced or upgraded depending on the part.
What's amazing is that even cosmetic parts were replaced. Do you remember the chemically stained powder measure cylinders? Well, the powder measures came back with upgraded blue tint cylinders and looked gleaming new!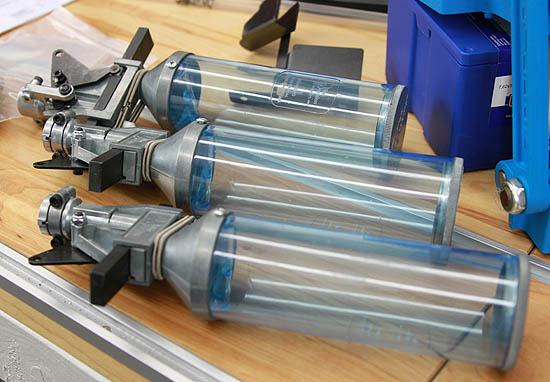 This repair case demonstrates that Dillon's "No B.S. Warranty" is fact, not fiction. I can't speak for all cases, but this time, Dillon did an amazing job holding up their solid reputation. I'm really impressed, and feel great about the support that I will get with my Dillon products. These products may cost more, but the quality is top notch, and the service is second to none. Enough said!
We'll see how Lewis does with his (now gleaming) XL-650 when he finishes his first loads!
**Edit: Note that Dillon Precision was not informed that this repair job would be highlighted on this website, and these articles were posted following the repair job.
Thanks,
Gavin