All pictures, data, and content copyright 2019 Ultimate Reloader. Please ask permission before using.
You could say this story is the culmination of the twelve years I've been working on Ultimate Reloader stories. It all started with the desire to share information about reloading presses, and it kind of got out of hand at some point. Now I feel like I'm realizing the dream that I had when I started my blog and YouTube channel- bringing people the "Ultimate" resource for information related to reloading gear.
In this article, I'll compare fourteen different reloading presses. The goal is to provide you with all of the information, evaluation criteria, and insights to determine which press is right for you. Let's get started!
Evaluation Criteria
In order to give a "complete picture" of each single-stage reloading press tested, the following information will be supplied:
Specifications, Features, Pricing
Country of Origin
MSRP, Street Price
Frame Type
Die Retention (direct-thread, bushing, die block, slot)
Frame opening (usable, above shellholder)
Weight
Frame material
Ram stop (hard stop or cam-over)
On-press priming (type, availability)
Die and/or Shellholder float
Shellholder type
Noteables / pros / cons
Direct Press Evaluation Tests and Evaluation
Press precision metrics: ram to press frame fit (for conventional presses, carriage slop for non-conventional presses)
Press mechanical advantage and leverage evaluation: 6.5 Creedmoor resizing force graph
Ammunition Precision Tests and Evaluation
Ammunition precision for five 6.5 Creedmoor dummy cartridges:

Base to datum consistency (shoulder setback)
Base to ogive consistency (bullet seating)
Case neck concentricity (compared to case body)
Bullet runout (compared to case body) at ogive, and near bullet tip
Test Methodology: Ram to Press Frame Fit
For each press with a conventional ram, the ram-to-frame fit was evaluated with custom tooling created for this article/video.
This tooling consts of:
A test rod which snaps in place like a shellholder, and is clamped down with a knurled nut.
A test bushing which is threaded 7/8″ x 14 TPI and is installed where a reloading die normally screws in.
A dial indicator holder which slips over the test bushing and can be rotated to take readings in different directions (primary test points are for "in-out" and "side-to-side" ram fit)
A dial indicator which reads in 0.001″ graduations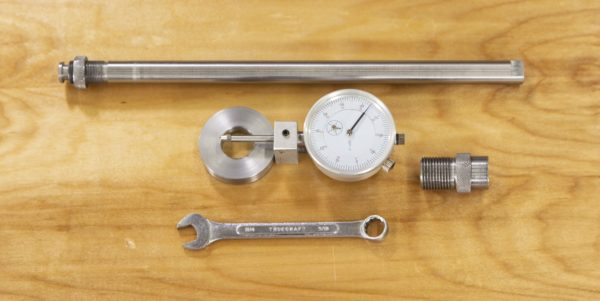 Notes about this test process:
The "play" or "slop" was measured approximately where the ogive of a 308 or 6.5 Creedmoor bullet would be located in a bullet seating die.
For presses without a conventional ram, the "play" or "slop" between the shellholder carriage and frame or guide rods was measured directly.
The "Total Indicator Reading" (TIR) was measured for each press- the ram was "pulled" and "pushed" on with gentle finger pressure to get a total movement figure for "in-out" (towards and away from the operator when facing the press) and "side-to-side" (left/right when facing the press)
The "mileage" on these presses (number of actuations/cyclings) varies widely- some have thousands of cyclings, where other presses were hardly used- this did not seem to affect the tests at all from what I can tell (Example: Redding Big Boss II is a well used press that showed very little slop)
Because of the differences between the above two types of testing, the results from conventional and non-conventional presses can't be compared directly.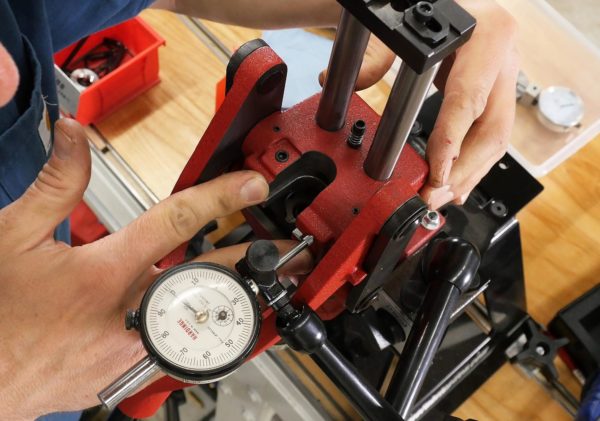 Test Methodology: Sizing Force Graphs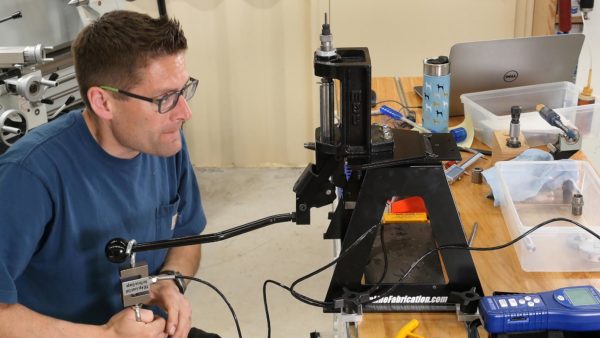 In order to evaluate relative mechanical advantage and corresponding operational effort for each press, two or more pieces of once-fired 6.5 Creedmoor brass were sized and de-primed and force data captured during the process (both down-stroke and up-stroke). For this testing, a REED Instruments SD6100 data logging force gauge was used.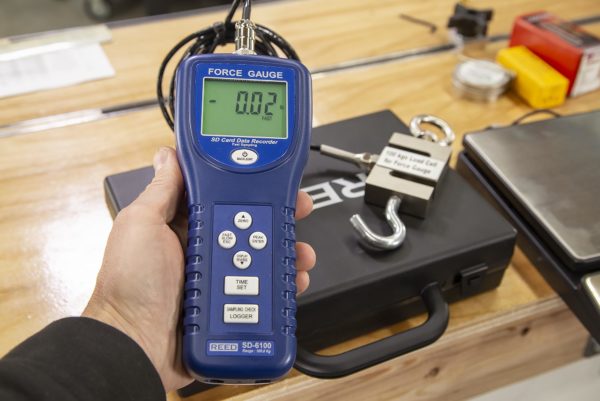 Here's the results from an early test run I conducted using military 308 brass for sizing: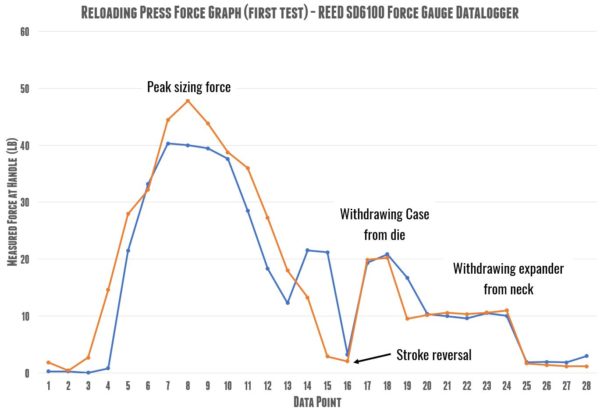 You can see in the above graph:
The test results vary from one piece of brass to the next (and slight variations in sizing speed from one test run to another)
Overall, test results are repeatable
Test Methodology: 6.5 Creedmoor Test Cartridges
For each press, five test cartridges were loaded (without primers or powder) in order to evaluate critical precision metrics. After some testing and evaluation, I decided to use a FORSTER 6.5 Creedmoor full-length sizing die, and a Redding 6.5 Creedmoor Competition Seating Die (tested well with the Hornady 123 grain 6.5mm A-Max bullets used in the testing).
Here's the specifications and details for the test cartridges:
| | |
| --- | --- |
| Cartridge | 6.5 Creedmoor |
| Case | Hornady 1x Fired |
| Bullet | 123 gr A-Max |
| Bump | -0.00200 |
| Sizer | FORSTER FL |
| Seater | Redding Comp |
| Shellholder | Redding #1 |
| COL | 2.698″ |
The first measurements were for base-to-datum (shoulder setback) and base-to-ogive (bullet seating depth). Hornady comparator gauges were used for test tests with iGaging Origincal Smart Wireless Bluetooth 0-6″ digital calipers (0.0005″ resolution).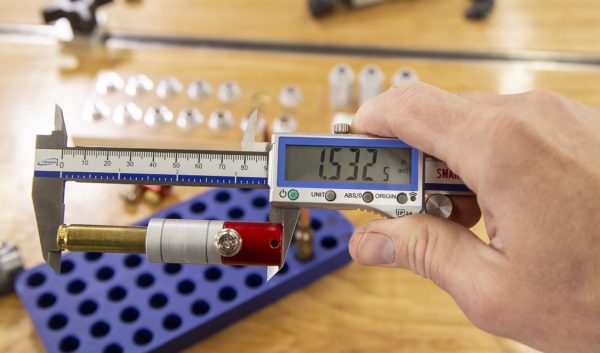 Following these measurements, the cartridges were evaluated for concentricity and runout using a Wilson case holder (the type used with the Wilson Case Trimmer) which I had chucked and aligned in the lathe within 0.0002″ concentricity (measured at both ends of case holder). Using the case mouth as a datum point, the cartridges were measured at the same distances using the lathe DRO to get exact distances as shown on my notes sheet here:
I decided to use Hornady 6.5 Creedmoor brass for these tests because it had case neck thickness consistency of ~0.0002″, and 6.5 Creedmoor bullets have a long protrusion from the case which helps get more accurate bullet seating concentricity values. All 6.5 Creedmoor brass was fired once in my Ruger Precision Rifle prior to testing. This resulted in sizing of both the case body and neck (yielding more real-world concentricity numbers for case neck and bullet runout).
Here's an example of the raw data collected (LEE Classic Cast Iron data shown here)
Special Notes About Data
During the collection of data for the evaluation of these reloading presses, I was very careful to make sure the data I collected was as accurate and meaningful as possible. Even with this attention to detail, the data is not perfect. With variations in each piece of brass, random errors, and some measurement error, I can't guarantee your results would be the same (or even my own results if I were to test all presses again). You therefore need to read the results with these factors in mind. I believe the data is very helpful when evaluating the relative quality and precision of each press, but some interpretation and acknowledgement of the variability in this data must be applied.
On to the specifications, results, and data for each press! The ordering is alphabetic based on manufacturer.
Here's quick links to the sections in this document:
Press Overviews:
FORSTER Co-Ax
Frankford Arsenal M-Press
Hornady Lock-N-Load Classic
Hornady Lock-N-Load Iron
LEE Challenger Breech Lock
LEE Classic Cast 50 BMG and LEE Classic Cast Iron
Lyman Brass Smith Ideal
Lyman Brass Smith Victory
MEC Marksman
RCBS Rock Chucker Supreme
RCBS Summit
Redding Big Boss II
Turban CNC Präzipress
Conclusion: