There are few things in life that bring me more satisfaction than building ultra-precision custom rifles! In this story, I'll share my latest build: a tack-driver PRS build with Bat TR Action, Foundation Genesis 2 stock, and Hawkins Precision M5 DBM bottom metal!
Disclaimer
Ultimate Reloader LLC / Making with Metal Disclaimer: (by reading this article and/or watching video content you accept these terms)
The content on this website (including videos, articles, ammunition reloading data, technical articles, gunsmithing and other information) is for demonstration purposes only.

Do not attempt any of the processes or procedures shown or described on this website.

All gunsmithing procedures should be carried out by a qualified and licensed gunsmith at their own risk.

Do not attempt to repair or modify any firearms based on information on this website

Ultimate Reloader, LLC and Making With Metal can not be held liable for property or personal damage due to viewers/readers of this website performing activities, procedures, techniques, or practices described in whole or part on this website.

By accepting these terms, you agree that you alone are solely responsible for your own safety and property as it pertains to activities, procedures, techniques, or practices described in whole or part on this website.
Tools and Gear
Precision Matthews TL-1660 Ultra-Precision Lathe
Again I'm using my preferred manual lathe for chambering, the Precision Matthews TL-1660!
This lathe is a beast! Here are some of the specs for the Precision Matthews TL-1660:
Ultra Precision, made in Taiwan
16″ swing, 60″ between centers capacity
D1-6 high precision spindle
English and Metric threading without gear changes
One shot lube on the carriage
3-Phase 5hp motor
*Note: for most gunsmiths, the TL-1640 would be a great choice. You likely won't need 60″ between centers like the TL-1660 offers. The TL-1640 can save both space, and significant money on freight! I opted for the larger lathe because I wanted to have a lathe on hand with extended capacity between centers.
Straight Shot Gunsmithing "True Bore Alignment System" and Range Rod
Recently I've become a huge fan of the SSG True Bore Alignment System (TBAS). This unique articulating chuck system allows you to dial in your barrel with both radial and axial adjustments.
Above you can also see the SSG Range Rod (see bottom of page HERE) which is used in conjunction with the TBAS system to indicate barrels (I used this on both the breech and and the  muzzle end of the barrel.
Custom Outboard Spider for TL-1660
I built this custom outboard spider for this lathe, along with a barrel extension back when I built a featherweight 22GT. Here's the finished spider I machined from solid aluminum billet on the TL-1660:
The barrel extension was made from a 300 Remington Ultra Magnum barrel take-off that I had laying around:
The muzzle was already threaded 5/8×24, which was just what I was looking for! I cut the barrel down to 16″ and then drilled, faced, and tapped the opposite end for 5/8×24 internal threads. Ready to roll!
Custom Dave Manson 6.5 Creedmoor Reamer plus Gauge
For my reamer, I built the "optimal load" we were planning to use with the completed rifle. I slotted a Lapua 6.5 Creedmoor case, and slipped in a Berger 140 grain hybrid bullet:
I wanted the bearing surface of the bullet AHEAD of the neck-shoulder junction to avoid "donut issues". With some back-and-forth discussion, we arrived at a freebore of 0.140″ on the reamer print. Here's Dave's hand-drawn reamer print:
And here's the custom reamer:
Build Components
This is a TOP NOTCH build! The following is an overview of the build components.
BAT TR Tactical Action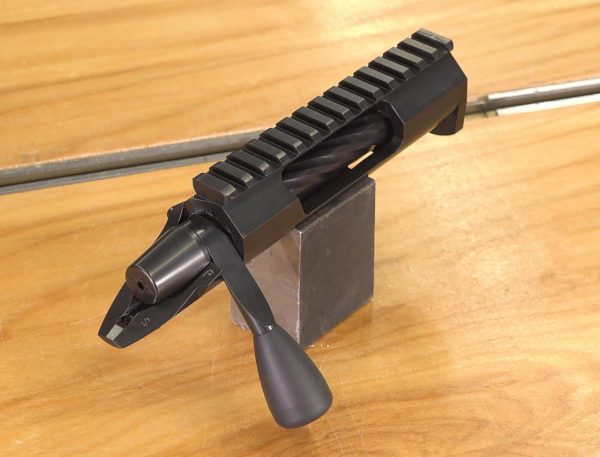 Here's the quick facts for the BAT TR:
Remington 700 footprint semi-clone
2-lug 90° throw
Short action only
1 1/16" x 18 TPI tenon/receiver threading
Compatible with most Remington 700 stocks and accessories
8.08" long and 1.35 inches in diameter, 33.4 oz in weight
Optimal for use with 1.200" and larger barrel shanks
Full story on the Bat TR HERE.
Foundation Genesis 2 Stock
The Foundation Genesis 2 is aimed at PRS shooter (and similar disciplines / applications). From the Genesis 2 product page: "The Foundation Genesis 2 is a hybrid combining the grip to trigger spacing of an Exodus with the fore end of our original Genesis stock.  A wide fore end, great balance and flexible attachment mounting options make prone and positional shooting strong points for the Genesis 2."
Here's a breakdown of the "core features" for the Genesis 2:
We have become HUGE fans of the Genesis 2!  Full story on the Foundation Genesis 2 HERE.
Bartlein 6.5mm MTU Barrel Blank
For this build, I used a Bartlein barrel with the following specs:
416R stainless steel
6.5mm
MTU profile (very heavy)
5R rifling
26″ finished length
Bottom Metal
For bottom metal, I used my preferred: Hawkins Precision M5 DBM.
This bottom metal is top quality, and works great with AICS magazines for 6.5 Creedmoor!
Machining and Chambering
Threading the Muzzle
When machining/chambering a barrel, I used to thread the muzzle last, but when using the TL-1660 lathe, I do the muzzle first so that I can use my barrel extension for the chambering process. This was one of the better looking muzzle threading jobs (5/8″ x 24 in this case) I've done, partly based on the new Carmex threading toolholder and insert I bought, and partly due to using Viper's Venom for the threading!
Breech End Barrel Work
Above: Cutting Counerbore
This was a standard machining and chambering job, including the following processes/steps:
Rough barrel indication (to 0.001″)
Part off barrel end
Pre-drill chamber (To diameter of shoulder minus 0.030″, length of shoulder minus 0.200″)
Final indication (to ~0.0001″)
Bore pre-drilled area true
Turn tenon to diameter
Thread reliefs on both ends of threaded area
Cut counterbore to depth and diameter
Thread tenon (1 1/16″ x 18 TPI)
Chambering (bulk, within 0.020″ of final depth)
Incremental depth cuts with checks
Cut to final depth, check
Cut chamfers
Polish chamber
BOOM! Done!
On-Lathe TESLONG Borescope Inspection
As seen in the video, for this chambering job I tried out a new setup on the TL-1660- a TESLONG NGT-100P pistol borescope mounted to a quick change toolholder. With this setup, I can send the borescope down the bore, and perform a complete inspection (including critical throat transition) while the barrel is in the lathe. This is a GREAT way to inspect your work while chambering.
Here's a still from the video footage showing the throat transition:
As the lathe spindle was spinning, the throat transition was perfectly straight, not the "wavering" you see if the throat is not perfect. Success!
Assembly and Finish Work
Above: Torqueing the action onto the barrel
For finish work, the following was performed:
Polish Barrel (I'll cover this in future videos, just got new barrel spinner and polisher)
Engrave barrel using 50W Fiber Laser
Install/Torque barrel (90 ft-lb)
Check headspace (using Go, Go + 0.002″ gauge setups)
Install trigger
Install barreled action in stock
Install scope (a Leupold Mark 5HD 7-35x56mm in this case)
Engraving the barrel:
And the finished barrel with engraving:
The rifle looks great all put together:
Early Break-In Results
With approximately 30 rounds through the rifle, things are already looking really good, before load development has even started! Using the Berger 140 grain break-in load, a 0.383 MOA 5-shot group was produced (with brake).
Thanks got even better when the SilencerCo Omega 300 suppressor was used the next day! With 5 shots going into 0.289 MOA! WOW. And that was with Federal Gold Medal 140 grain factory ammunition.
Here's a picture of the target after it dried out (it was raining when shooting):
Here's a stock image showing the Federal Gold Medal 6.5 Creedmoor 140 grain ammunition (has produced outstanding results in all of the rifles I've shot it with):
Now I'm trying to imagine what will be possible with load development, and possibly the EC Tuner Brake from Erik Cortina. We will start that process soon!
Get on the UR Rifles Waitlist
As mentioned in the video, we are planning to offer the rifle you saw in this article for sale. If you'd like to know more, you can get on the waitlist HERE.
Don't miss out on Ultimate Reloader updates, make sure you're subscribed!
Thanks,
Gavin