Struggling to find centerfire primers? We've got another way to shoot small groups – .22 LR tuners!
Disclaimer
Ultimate Reloader LLC / Making with Metal Disclaimer: (by reading this article and/or watching video content you accept these terms). The content on this website (including videos, articles, ammunition reloading data, technical articles, gunsmithing and other information) is for demonstration purposes only. Do not attempt any of the processes or procedures shown or described on this website. All gunsmithing procedures should be carried out by a qualified and licensed gunsmith at their own risk. Do not attempt to repair or modify any firearms based on information on this website. Ultimate Reloader, LLC and Making With Metal can not be held liable for property or personal damage due to viewers/readers of this website performing activities, procedures, techniques, or practices described in whole or part on this website. By accepting these terms, you agree that you alone are solely responsible for your own safety and property as it pertains to activities, procedures, techniques, or practices described in whole or part on this website.
How a Tuner Works
I've used three types of tuners. The first are plain O-rings from the hardware store. I've also used Limbsaver's and Erik Cortina's EC Barrel Tuner. 
All tuners work the same way — by changing the harmonics of a barrel. 
O-Rings
Start out with the O-rings on the end of the barrel in one spot.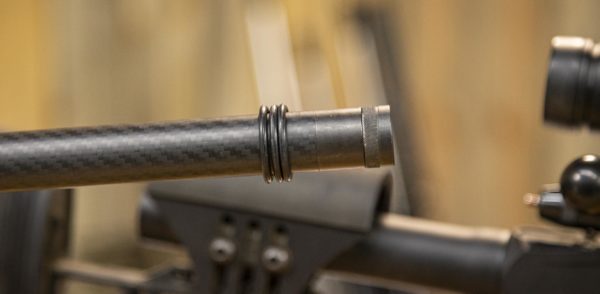 Shoot a group and move the O-rings a specified distance, whatever you choose. Shoot another set of groups and see how the group changes. Repeat this process, recording both tuner location and group size. The upside to this technique is cost, it's almost free! The downside is that the O-rings can move around (especially while handling the rifle) and there's not a finite "scale" to quantify your "setting".
Limbsaver
Follow the same procedure as with the O-rings.
Start with the tuner on the end of the barrel and move it small increments (quarter inch, etc.) at a time. Shoot groups until you find where it performs best. The Limsaver has pretty much the same downsides as the O-rings, but costs more.
EC Barrel Tuner 
This tuner is precisely machined with very fine threads. You will need a rifle with a threaded barrel.
Shoot a baseline group. Remove the thread protector, then thread on an EC Tuner sleeve and put the weight over top. Shoot a group then rotate the weight out. Tick marks help you to return to a repeatable position.
This tuner works by changing thread position and the location of weight on the front of the barrel. Watch how groups grow and shrink with different positions of the tuner. 
Test Setup 
Many people shoot rimfire at 50 yards or 50 meters. With the rise of long-distance rimfire shooting, I decided to perform the test at 100 yards. Shooting .22 LR at distance is not easy. The longer dwell time in the barrel requires you to be even more careful and precise. Any movement you make with a centerfire is exaggerated with a rimfire. 
I used SK Rifle Match ammunition in an Anschutz 1710 Competition HB off a rest. This rifle has an XLR Element 4.0 chassis with a match 54 bolt action repeater, blued receiver and a match chamber with a 20" heavy stainless threaded barrel. It also has a precision 5119 two-stage trigger adjustable from 4 to 7.5 ounces and comes with two 10-round mags. 
1710 Competition HB
Caliber: .22lr

System: Match 54 bolt action repeater, 5119 two-stage trigger, blued receiver with stainless steel barrel.

Weight: 8 lbs, 13 oz.

Receiver: Scope mount attachment with 11mm rail and drilled and tapped

Barrel Length:

20″ SS heavy barrel

, no iron sight provision

Chamber: Optimized Match Chamber

Crown: Recessed Target Crown

Muzzle Diameter: 0.90″

Trigger: New 5119 Two Stage Trigger

Trigger Weight: Adjusted to 6.35 oz. (180g)

Trigger Weight Range: 4 to 7.5 oz. (110 to 215g)

Magazine Capacity: 10

Magazine Release: Extended

Stock Style: XLR Element Chassis
Chassis Features:
Machined from solid 6061 T-6 billet aluminum

MLOK™ attachment points down both sides of forearm

Tactical-Lite Buttstock with LimbSaver recoil pad

RRS (Really Right Stuff) Spec 1.5″ Dovetail (Arca-Swiss) forearm

"Anschutz 10 5/8" Rail at 6 o'clock position of forend

Multi-point radial cut inlet eliminates the need for traditional V-Block or Glass Bedding

Adjustable LOP: 12″ to 15″

Adjustable Butt-Plate Height 1.575″

Adjustable Cheek Piece Height & 10 degree cant

Built in bubble level – New on the 4.0 version

User interchangeable pistol grip

Weight of chassis with action screws 3 lbs 7.5oz
SK Rifle Match is a rimfire competition round which delivers excellent accuracy. It is a high-performance rimfire match cartridge especially developed for rifle shooting in all 50 m / yd disciplines. The SK Rifle Match is characterized by high reliability and optimal hit performance. Whether the objective is intensive training or a competition, the SK Rifle Match delivers the perfect result. An ambitious shooter can reach any goal with this premium ammunition, manufactured with greatest care and using our top level technologies.
For rimfire rifle shooters who seriously develop themselves, the SK Rifle Match is the .22 lr ammo to try.
We have two styles available.  The original EC Tuner and the Tapered EC Tuner.

The original EC Tuner is 1.250″ diameter straight and is 2″ long.  It's perfect for 1.250″ competition barrels.

Tapered EC Tuner:  Tuner tapers from 1″ to 1.250″ and is more suitable for smaller barrels such as those used in F-T/R and PRS/NRL rifles.  Minimum muzzle diameter is 0.850″ due to threads being .850-24″

This tuner can also be used in rimfire or competition rifles by using our thread adapters that come in 1/2-28, 5/8-24, 3/4-24, and M18x1.  View adapters

here:

This tuner can be fitted behind any muzzle device such as suppressor or brake.
The Test and Tune at 100yds with EC Barrel Tuner
After we plowed some snow out of the way, I shot a baseline group with the thread protector on. I then removed the thread protector, threaded the EC barrel tuner all the way to the muzzle, and began shooting groups.
Rather than turn the tuner in small increments as advised, I wanted to see what would happen if I turned the tuner a full revolution at a time. I shot five shots, turned  a revolution, then repeated the process. I should have followed the directions — I didn't quite get the results I had hoped for. 
The next day, I reran the test, but followed the directions.
I fired three shots, then moved the tuner two tick marks, fired three shots, then moved two tick marks — firing on a different target each time. I had several pieces of paper up with six round targets each. Firing them in order allowed me to see what happened as I moved the tuner. I watched with anticipation as the groups got smaller and smaller, then widened back up again.
I kept going and eventually shot a three-shot .164″ group before three shots landed in almost the same hole.
The next thing to do to verify the pattern is write down the setting, then move two more tick marks to see what happens. I spun the tuner and the group opened back up. 
Backing up to 50 Yards
At 100 yards, things tend to open up a bit due to how 22LR bullet fly, and environmental effects. So we decided to shoot some groups at 50 yards with the same optimal setting that worked at 100 yards.
Here you can see the 50 yard follow-up groups (successive groups after settle-in on rest). The left target was shot using SK Match (Travis shooting), and the right target was shot using Lapua Center-X (Gavin shooting). As you can see, some great results!
Results/Conclusion
Tuners do work and produce very measurable results, as long as you follow the directions! There is a definite pattern of larger groups, smaller groups, then larger – almost like some kind of roller coaster ride. Tuners are a great way to get greater accuracy out of your .22 rimfire and are worth some experimentation! 
Get the Gear
The Anschutz 1710 HB has an MSRP of  $3,195 and comes with an XLR Element Chassis (MSRP $375, without buttstock).

Find SK Match at Creedmor Sports for $9.95 per 50-round box as of April 2022.  The EC Barrel Tuner can be found directly from shootsmallgroups.com with two styles, the original and tapered, ranging from $150 to $170. 
Don't miss out on Ultimate Reloader updates, make sure you're subscribed!
Thanks,
Travis Fox