Working up and testing loads can take what feels like an eternity. When I lived in the city, working up a rifle load could take weeks. Amidst the chaos of a full-time corporate job and busy family life, the opportunities to load and shoot were difficult to come by. Let me sketch out a typical scenario in this "concrete jungle" shooter's world. Tuesday: somehow I've managed an hour down in the reloading room to put together what I think will be a good starting load for a new rifle. Thursday: Over my lunch hour, I run over to the range, get setup, and spend 15 minutes shooting groups. Something's not right. The following Tuesday I manage another hour in the loading room, load up some cartridges, and pack them away. Two days later I manage another lunch hour shooting trip which is wasted due to a "lost zero" (loose scope mount), and the cycle continues (for weeks?).
Now that I live in the country and have an on-site 100-yard range (and reloading room), I can cut this weeks-long process down to hours. However, since most people don't have this luxury,  it's beneficial to think about things "creatively". What if you could work on loads *while* at the range? Changing powder charges, fiddling with bullet seating depth, and other factors. It's quite possible, but it requires a portable reloading setup. That's where a good hand reloading press comes in handy!
Buchanan Precision Machine Hand Reloading Press
William R. Buchanan started Buchanan Precision Machine almost 30 years ago, and adheres to their motto: "Exceptional Products for Demanding Use". The Buchanan Precision Machine Hand Reloading Press is an embodiment of this motto- and when you pick one up and use it you'll see what I mean. This press is an evolution of an old press that has been out of production for years: the Huntington Industries Decker Hand Press. While it shares some of the basic design features, the Buchanan Precision Machine Hand Reloading Press takes quality and functionality to the next level. This press accepts standard shell holders, uses standard 7/8×14 dies (or dies with Hornady Lock-N-Load bushings as I showed in the above video), and has a COL capacity of 3 3/4″. Need to load 30-06 away from the bench? No problem, this press can handle it. Unlike other hand presses, this one stands by itself on a flat/level surface, and can be clamped to a bench in order to stay in one spot.
Here are some of the features built into this press: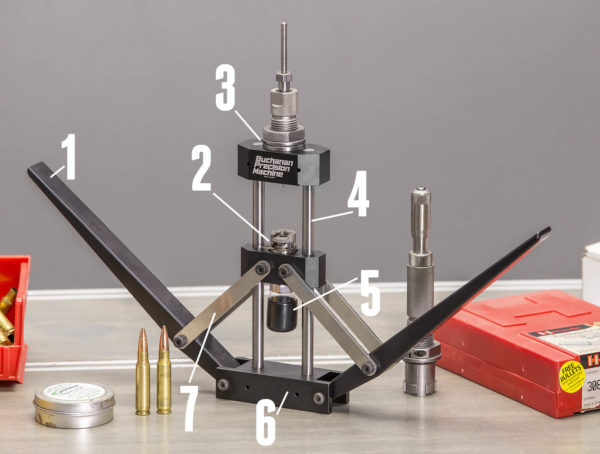 Here we have:
6061 Aluminum handles and frame
Standard shellholder slot
Lock-N-Load adapter (optional, also available with 7/8×14 threaded bushing)
Guide rods
Spent primer catcher
Flat base (allows press to stand upright without support)
Stainless steel link plates (opening/closing "friction" is adjusted with these bolts)
What Can You Do With It?
This press can do pretty much everything a single stage press can do- size cases, expand case mouths, seat bullets, and more. The difference is- this press is portable. I've tested this press with super-stiff military 308 brass (that was fired in an oversized M60 machine gun chamber- see video), as well as 30-06 cases fired in a bolt gun. The 308 cases are very difficult to work with in any kind of press- but the Buchanan Precision Machine Hand Reloading Press handled them well. The 30-06 cases were easy to full-length size by comparison with this hand press. Seating bullets in either caliber was easy and straightforward.
Options and Accessories
Buchanan Precision Machine offers a variety of options and for their hand reloading press including a standard-threaded version, the Hornady Lock-N-Load bushing version, a padded case. You'll find all of these products on the Buchanan Precision Machine website.
Next, I'm going to take this press out to the firing line in order to fine-tune my loads while I'm shooting- something I've been waiting to do for a long time! Stay tuned for future updates and stories.
Thanks,
Gavin