The Dillon 550B (and newer RL-550B) are well-known for being solid performers that are simple to setup, and relatively affordable to setup and run. This press may not be loaded with all of the latest features (from what I know it was introduced well over 30 years ago), but it does have a "tried and true" reputation. In this post, I'll walk you though an overview of the press, and then load some 45 ACP with it. This isn't a typical "stock setup" – this 550B has been upgraded with quite a few Inline Fabrication upgrades (see the end of the post for a list).
Let's get straight to it, here's the video:
In the video I walk through the stations, here's a bit more detail on the setup: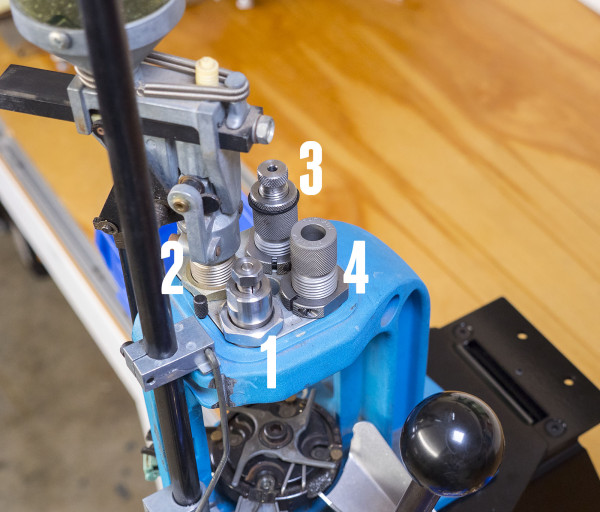 These stations are setup as follows:
Station 1: LEE 45 ACP sizer/de-primer (top), priming (bottom)
Station 2: Dillon powder measure with integral expander
Station 3: Hornady Seating die (with sliding collar, a great design)
Station 4: Hornady taper crimp die
This setup has been working great for me, and I like the ability to adjust seating depth and crimp separately. That's the way I setup every press for pistol cartridges when I have the option to do so. A couple things to note here for this this press and setup:
You don't have a station for powder check unless you combine seating and crimping
Because this press doesn't have auto-index you have to be especially diligent to check powder levels and *advance the shellplate every time without any mistakes*
I grouped these two concerns together here because they "compound each other". Having said that, I know people that swear by the 550B/RL-550B, and haven't had issues with double charges.
Like any other press, how you setup and organize your gear will have a big impact on both you efficiency, and your enjoyment of the reloading process. This Dillon 550B setup features the following Inline Fabrication upgrades:
Here's a close-up of the dual output and empty case bin setup which includes the bin barriers (improves working capacity of bins greatly):
I've experienced stiff and chunky priming on a couple 550's now- if anyone has tips/tricks on smooth priming for this press, please leave a comment! I think it's time to take my 1911 out to the range!
Thanks,
Gavin