I'm excited to formally kick off shotshell reloading content here on Ultimate Reloader! In this first post, I'll walk through the unboxing of a Hornady 366 shotshell reloading press. In the included video you'll experience this unboxing experience along with me for the first time. The Hornady 366 shotshell reloading press was actually introduced as the Pacific DL-366 before Hornady acquired Pacific in 1971. This progressive shotshell reloading press has been popular with shotshell reloaders due to its features and solid construction.
By joining me in this unboxing adventure you'll know exactly what to expect if you purchase a 366 shotshell loader. What exactly is inside? Let's see!
Like all Hornady products, the Hornady 366 is boxed up so that it could fall out of the back of the UPS van and not suffer a scratch! There's a lot of cardboard protecting each of the components, and it actually takes a bit of effort to get the main package out of the outer cardboard box (I'll admit that I cut out part of the middle of the video that included me huffing and puffing and pulling on the inner box). Once unpacked, it's evident that there's not a lot of assembly work to do- this press looks almost ready to roll straight out of the box!
Here's what's in the Hornady 366 box:
Press (main assembly)

Shot and Powder dispenser assembly
Powder drop tube
Allen wrench
Extra crimp starters
Primer tube and tube filler
Spent primer catcher
Owners manual
Hornady catalog
Ever since I saw a picture of the Hornady/Pacific 366 I knew I had to have one. For years I've wondered how this machine works and how it's constructed. Now it's finally time to load up this press with primers, shot, and powder and give it a try. Oh, and I'll also need some hulls and wads, gotta have those!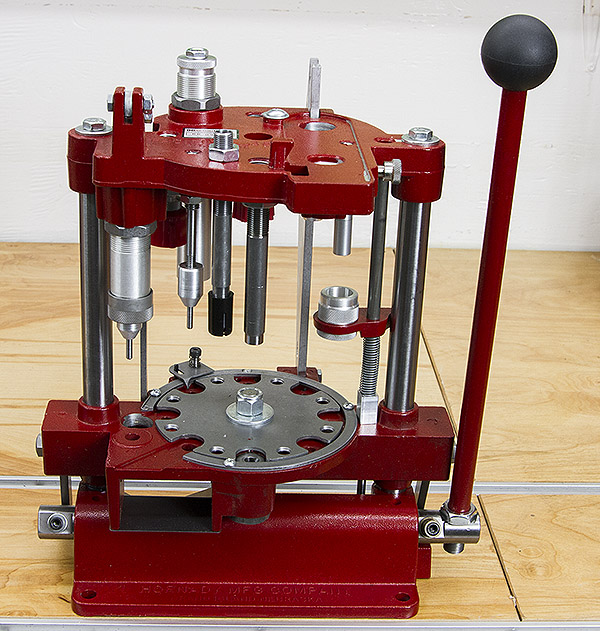 Before I get started with this press, I'll need to fabricate a plywood sub-plate for my quick change press system (If it was invented by Hornady, they'd call it a Lock-N-Load bench! 🙂 ). Once I get this 366 mounted on the sub-plate, I'll be ready to finish assembly and start loading. Can't wait!
Be sure to stay tuned here on Ultimate Reloader as we're just getting started with shotshell reloading content. Much more to come!
-Gavin