Have you been having performance problems? Let's be clear, I'm talking shooting performance! I found the secret sauce to making a prone shooting position feel much better: check out this story to learn more.
Disclaimer
Ultimate Reloader LLC / Making with Metal Disclaimer: (by reading this article and/or watching video content you accept these terms). The content on this website (including videos, articles, ammunition reloading data, technical articles, gunsmithing and other information) is for demonstration purposes only. Do not attempt any of the processes or procedures shown or described on this website. All gunsmithing procedures should be carried out by a qualified and licensed gunsmith at their own risk. Do not attempt to repair or modify any firearms based on information on this website. Ultimate Reloader, LLC and Making With Metal can not be held liable for property or personal damage due to viewers/readers of this website performing activities, procedures, techniques, or practices described in whole or part on this website. By accepting these terms, you agree that you alone are solely responsible for your own safety and property as it pertains to activities, procedures, techniques, or practices described in whole or part on this website.
The Problem
Simple fact, Natural Point of Aim (NPA) and rifle fit is always up for discussion. We are all aging, growing, getting hurt, our bodies are always needing adjustment to perform properly.
My dry fire time this winter with the IDTS and DFAT has been going well but I have had a nagging issue.

Above: Indoor Dryfire Target System (IDTS)
In the prone my cheek weld has not been "comfortable". It has just seemed "off". I was reading and looking up all the content I could find. I found myself carousing YouTube videos of shooting from Snipershide, Modern Day Rifleman, Impact Shooting training, and while it was all great content, I couldn't really figure it out; I was just not comfortable.

A low bipod height indicated here reflects the "scrunched", unnatural position I was in.
The Solution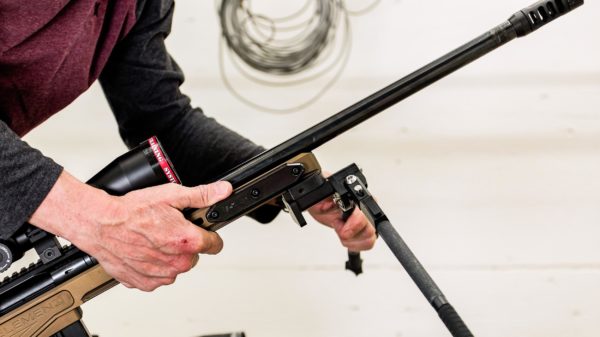 Just when I'd put in all this work with no evident solution, it hit me – my bipod! It's too low. I clicked it up 2 spaces and it was better. One more click up and I was golden. It all fell into place and I fell into this comfortable position.

New bipod height promotes healthy sustainable posture.
Here's why this shooting position optimization is so important. With proper bipod and rifle height, you'll experience:
Better eye-to-scope alignment, sight picture, eye relief
Ability to see your trace better after firing
Ability to spot hits and misses
Better concentration due to natural shooting position
The takeaway is don't be afraid to try something new. Grow into your rifle, and take the time to learn what makes it shoot better for you. Just like we tweak our reloading to have better results, tweak your rifle setup. 
Get the gear
Don't miss out on Ultimate Reloader updates, make sure you're subscribed!
Thanks,
Travis Fox