I've been using the Hornady 366 for a while now, and have tweaked a few things and completed some setup tasks that I thought I'd share with you all. Now that I've completed these setup work-items, the 366 is running smooth, and operation is super-convenient.
UR Reloading Bench Integration
I've gotten a ton of requests for more information about my reloading bench system (don't worry, I have more planned on that topic). For the Hornady 366, I went through the normal steps integrating the press with my quick-change quick-slide T-track bench system, and a 366-specific exploration (shell ejection). These steps include:
Figuring out the proper distances for the press relative to the bench (clearance for handle and linkage when cycled, etc)
Glue together a doubled-up 3/4″ hardwood plywood baseplate blank (1.5″ thick total)
Cut in side slots, install backside T-nuts with reliefs
Cut shell drop-through hole and build up shell guide funnel
Apply a coat of urethane (let dry over night)
Bolt down press
She's looking good!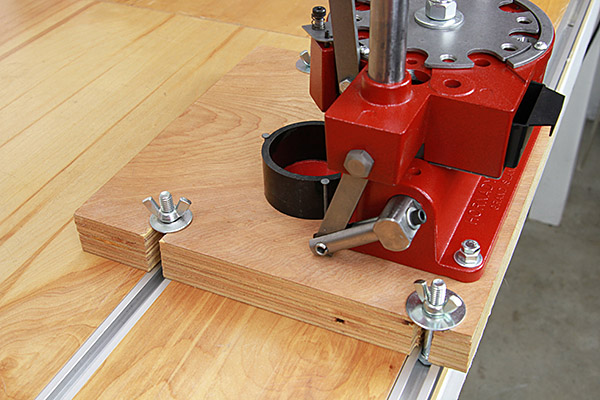 After the "above bench" integration activities were completed, I finished the project by adding a drain pipe elbow and akro-bin holder below the press to catch the ejected shells:
With the press fully integrated it's now an easy matter to remove/replace the press from the bench and reloading shotshells is a seamless process.
Hornady 366 Easy Primer Shutoff Upgrade
As I started setting up and reloading with the Hornady 366 shotshell press, I quickly realized that a primer shutoff would be an important upgrade for this press. Without it, you get a stream of primers while cycling the press during setup, run-up, and run-down. I had a quick look online and found some existing solutions, but didn't find anything super-simple or super-cheap. While looking at the press (sometimes I just stare at a reloading press to formulate ideas) I noticed the threaded portion on the lower primer tube (feeder) above the locknut. "Looks like there's room for one more nut up there" I thought to myself. So I rummaged through my SAE "fine" box of nuts and bolts and found a 1/2″ x 20 TPI nut to use on the 366 lower primer tube. The following animation shows how this system works: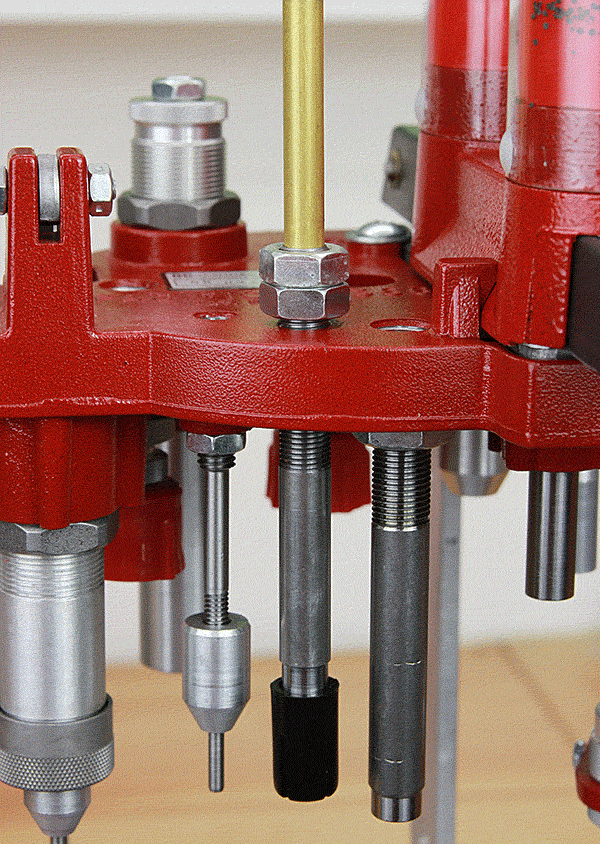 Setting up and operating this primer shutoff is simple:
Remove the upper primer tube (or just the primer collator from the top of the tube).
Thread on and tighten the second 1/2″ x 20 TPI nut using a 3/4″ wrench – priming is "on" when bottom nut is tightened against press casting.
To turn off priming: Loosen the lower nut, spin the lower primer tube a couple turns anticlockwise.
To turn on priming: Spin the lower primer tube until lower nut contacts press casting. Tighten lower nut with 3/4″ wrench.
This press upgrade should cost about $.25, is super-fast and also preserves your primer tube depth setting between "on/off" transitions. If you have a Hornady 366 press, try it out!
While I'm sure that I'll have other updates, this set of press tweaks and upgrades has gotten me off to a great start. My how I love getting my tools setup and organized!
Thanks,
Gavin