Reloading ammunition involves forming brass. Forming brass involves a lot of force and friction- this makes case lube a vital part of the reloading equation. Now, talk to a motorsports enthusiast about engine oils, and you'll get opinions: strong ones. Likewise, when discussing case lubes, you'll get passionate opinions as well. It's not surprising people get worked up about lubricants- they are very important, and can be quite expensive as well.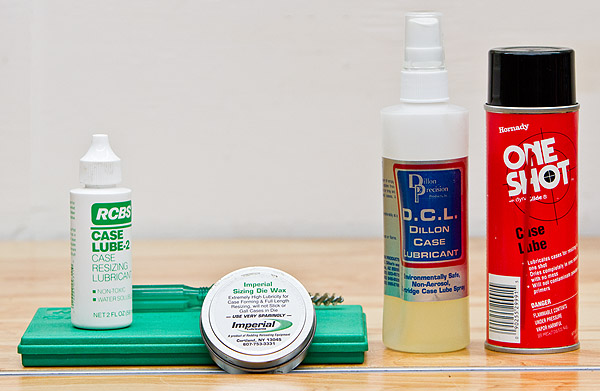 Going back to engine oils for a moment: there are a lot of different formulations and types of oils and for good reason. Each type of engine has different operating environments and demands, and there's a specific engine oil that's designed or recommended for each type of engine. Regarding reloading processes and equipment the same is true.
Here are some basic principles: For pistol loading, spray lubes are most common. They go on easy, and provide a uniform application of lubricant. If you are using non-carbide dies, you need lube. If you are using carbide or similar dies (Titanium Nitride, etc) you don't HAVE to use lubricant, but it will make the press run smoother. I always lube when I reload. Rifle reloading involves more force (typically, especially full-length sizing of bottleneck cartridges) so lubrication choice plays a more important role. Typically rifle cartridges need a more grease-like high performance lubricant (although there are other options as well like mica powder). Since this post isn't a detailed breakdown of the science of lubricants, we'll stop there and start talking about products. 🙂
RCBS Case Lube Pad (Rifle)
The RCBS case lube pad is a foam pad that absorbs a thick lubricant. You roll rifle cases on the "charged" pad, and then apply some lube to the inside of the case mouth with the supplied brushes. This product works well, but I find it difficult to lube only case necks when using neck-only sizing dies, and it's a bit of a mess to charge. Many reloaders use these, and I can see why- it works, and it's not expensive.
Imperial Case Sizing Wax (Rifle)
This product is great, and I've found it to provide the best anti-seize protection for difficult rifle sizing tasks (like full length sizing of military 7.62x54R brass. You wipe your index finger on the wax, and then spin the brass while wiping your fingers on the outside of the case. I also use a Q-Tip to apply wax to the inside of the case mouth. This product is a bit time consuming to use, but it works very well.
Dillon Case Lube – A.K.A. DCL (Rifle/Pistol)
DCL is a very thick spray on lube. I have found it to work well for both rifle and pistol. I have had stuck cases using this product to reload .223/5.56, but they have been infrequent, and spraying is a LOT faster than other typical methods of lubing cases. The one downside to DCL is that it leaves a pretty thick residue on cases. Not too hard to cleanup, but you do need to wipe cases down or tumble off the lube after reloading.
Hornady One-Shot (Pistol)
Hornady One-Shot is listed as a rifle/pistol lube, but I only use it for pistol (since I have had stuck cases with .223/5.56 using One-Shot). Since this lube is light/thin you can get away without post-loading lube cleanup, but it's always best to clean to avoid feed issues and a general mess. One-Shot sprays on quick and dries quick. One aerosol can lasts a long time as well. I probably use One-Shot the most when loading pistol.
Now, what if you're on a budget? When I started reloading I was primarily concerned with economics, so I searched online and found a product that I could use for case lube that was already in our house. That's right- it's the dark horse of the reloading case lube product portfolio: Lemon Pledge!
I used Pledge for a long time for lubrication of pistol cases and it performed pretty good. It's not formulated for optimum case lubrication performance, but it does leave your cases smelling "lemon fresh". 🙂 I still keep a can of Lemon Pledge in the loading room. I wouldn't hesitate to use it if I ran out of my normal arsenal of case lube.
There you have it. Not an exhaustive list of case lube products, but it gives you an idea of what kinds of lubricants you'll need to have on hand for pistol and rifle reloading.
Don't see your favorite case lube? Please leave a comment!
Thanks,
Gavin